Nigeria, many young people are joining cult groups and sects
Published By admin with Comments 0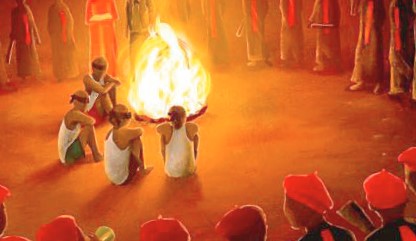 An increasing number of young people are joining cult groups in Nigeria, but this is not due to the literacy level. The term "sect" derives from the word "occult," which means secret or hidden, hence the reason why little is known about cultists. Not everyone who joins a sect undergoes brainwashing or is "illiterate," as many believe. This is what Dr. Lionel Von Frederick Rawlins, the President of the American University of Nigeria in Yola, stated.
Although cultism "emerged from one of our higher institutions in the '60s, then split into terrible and autonomous cult groups in which people from all walks of life participated. They started operating from the cities to the most remote villages, engaging in gruesome assassinations and horrifying killings.
According to Ike Onyechere of Exam Ethics Marshall International, no fewer than 10,000 people were killed in cult-related violence across the country between 1996 and 2019. More cult groups are emerging, and most, if not all, are steeped in witchcraft and fetishism of bloodletting.
The severe social decay is often attributed to the high levels of corruption in the country. Corrupt politicians still use cultists to intimidate their opponents and manipulate elections. They allocate huge sums of money to hire thugs and cult groups during elections.
According to Rawlins, many people join cult groups out of fear and have been forced or coerced to join. Those who voluntarily join do so to exert power over others and gain access to wealth. Since most of those who join cults are poor, the only way to obtain wealth is through nefarious activities such as robberies and other diabolical methods like initiation into religious rituals using voodoo or juju, culminating in ritual killings. Not to mention the folklore and culture that glorify these activities, making them attractive to the greedy and money-minded individuals.
Rawlins further asserts that, as foolish as it may seem, the belief that one can obtain anything and succeed with girls who would otherwise be unattainable is a driving factor. There is a sense of not being able to be intimidated but being able to instill fear and be feared. For young people in Nigeria, success means having "the girl," money, and respect.
Wherever there are young men growing up in a society with limited academic and career opportunities, such as in Nigeria, with a large number of unemployed youth, cultism becomes an attractive way to embrace the get-rich-quick syndrome.
Content retrieved from: https://www.focusonafrica.info/en/nigeria-many-young-people-are-joining-cult-groups-and-sects/.