'My mother and two sisters went missing after following Paul Mackenzie cult'
Published By admin with Comments 0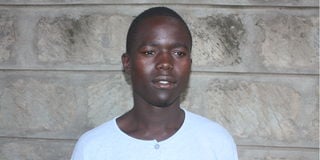 The last time he communicated with his mother was in the year 2020. Then the line went dead, leaving the then 19-year-old Stanley Ombuna in a state of confusion.
Accompanying his mother Susan Awinja were his two little sisters, aged 12 and four at that time. To date, their whereabouts remain a mystery.
The fidgety Ombuna, now 22 years old, has decided to recount years of uncertainty, swimming against the tide, enduring upheavals, and coping with the fear of the unknown.
"I don't know where they went. The last time my mother dialed me was three years ago. She later resorted to texting before the line went dead," he recalls the conversation.
But what is still vivid in his mind is that his mother had become an ardent follower of Paul Mackenzie of the Good News International Church.
"She remained glued to a local television channel whenever he was preaching. Soon after, she started behaving strangely. She discouraged me from continuing with my education," he remembers.
Content retrieved from: https://nation.africa/kenya/counties/nakuru/-my-mother-and-two-sisters-went-missing-after-following-paul-mackenzie-cult–4287260.