Unification Church-related Japan NGO to sue lawyers' group for 'defamation'
Published By admin with Comments 0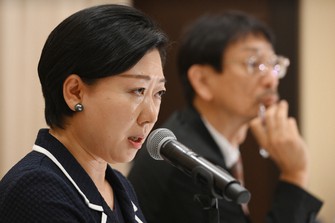 TOKYO — A nongovernmental organization (NGO) related to the former Unification Church on July 3 announced its intent to sue an anti-cult lawyers' group in the Tokyo District Court, accusing the group of defamation.
The Women's Federation for World Peace (WFWP) Japan has connections with the Unification Church, a controversial religious organization, now formally known as the Family Federation for World Peace and Unification, with a chapter in Japan. It is demanding 33 million yen (roughly $230,000) in damages over a statement by the National Network of Lawyers Against Spiritual Sales, which seeks justice for victims of cults.
The lawyers' network on June 15 released a statement asking local governments across the country to not grant permission to the WFWP to use venues for a Japanese speech contest for foreign students. The statement described the WFWP as "a group serving to gather people and collect money for the former Unification Church while masquerading as a volunteer organization." The WFWP responded by insisting, "While the founder is the same, our activities and management are in the form of an independent, United Nations NGO." The NGO claims the lawyers' statement amounts to defamation.
At a press conference announcing the suit, the NGO's chairperson Moriko Hori claimed five venues in four prefectures had rejected their request to hold the event. "I've been doing international volunteer work for over 30 years. I feel resentful," she said. The organization planned to file the suit the following day.
(Japanese original by Tomoyuki Hori, Tokyo City News Department)
Content retrieved from: https://mainichi.jp/english/articles/20230704/p2a/00m/0na/004000c.