Shakahola cult: Paul Mackenzie's wife released on bond
Published By admin with Comments 0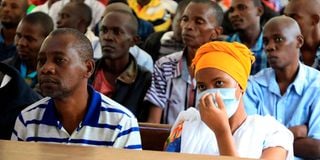 Rhoda Mumbua, the wife of Kilifi cult leader Paul Mackenzie, has been released on a personal bond of Sh100,000 with a surety of Sh300,000.
Mumbua was released on condition that she attends all court hearings.
In a hearing on Monday, magistrate Yusuf Shikanda said the evidence and investigations presented to the court did not directly link Mumbua to any offence related to the Shakahola mass deaths.
Mumbua was arrested on May 2 and has been in police custody alongside her husband Mackenzie and other suspects linked to the Shakahola sect.
On Monday, the court granted the prosecution 30 more days to detain Mackenzie and other suspects pending further investigations.
The suspects are being held at Shimo La Tewa, Kilifi and Malindi GK prisons.
Content retrieved from: https://nation.africa/kenya/news/shakahola-cult-paul-mackenzie-s-wife-released-on-bond-4292450.