Most methods for squashing conspiracy theories don't work, study finds. Here's what does.
Published By admin with Comments 0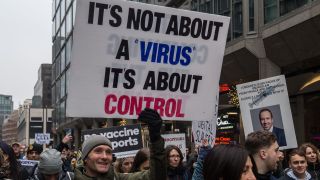 Debunking conspiracy theories with counterarguments is often a fruitless effort — but according to a new scientific review, there may be alternative strategies that can successfully fend off conspiratorial beliefs.
Having already grown over the past 10 years, interest in conspiracy theories skyrocketed during the pandemic, when failure to comply with public health recommendations was sometimes associated with conspiracy beliefs (opens in new tab). For example, proponents of the anti-vax movement (opens in new tab) may avoid vaccinations for themselves or their children on the basis that some hazardous outcome of vaccination is being covered up. Although increasingly prominent in public discourse, conspiracy theories have proved a difficult mindset to shift.
"I wouldn't have a Ph.D. in this project if conspiracy theories were easy to counteract," said Cian O'Mahony (opens in new tab), a doctoral candidate in psychology at University College Cork in Ireland who led the systematic review reported in the journal PLOS One (opens in new tab). The review doesn't reveal "a silver bullet" for countering conspiracy theories, he said, but "we have found some interesting avenues for future research that we should follow up."
The review is the first of its kind, as previous studies have been more concerned with understanding the psychological underpinnings of conspiracy beliefs (opens in new tab), O'Mahony told Live Science. Research into designing interventions to combat conspiracy is still relatively new. "When we did the review, we found that there's only a handful of papers that are actually published on this topic," he said.
Content retrieved from: https://www.livescience.com/most-methods-for-squashing-conspiracy-theories-dont-work-study-finds-heres-what-does.