Good News International Church Pastor Paul Mackenzie during an interview with the 'Nation' in Kilifi County on March 24, 2023. The pastor is under arrest following the deaths of four followers, whom he reportedly told to starve themselves in order to "meet Jesus". PHOTO | NMG
Published By admin with Comments 0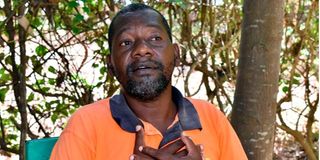 A series of blunders by controversial televangelist Paul Mackenzie and his aides made his freedom short-lived after he was released by a court last month, leading to the discovery of mass graves in Kilifi's Shakahola village.
On March 23, Mackenzie had left a Malindi court a happy man after securing freedom on a Sh10,000 police bond in a case in which he was linked to the murder of two children in Shakahola village filed under OB No. 12/17/3/2023.
Court documents said the parents of the two children, on advice from Mackenzie, had starved and suffocated them to death on March 16 and 17.
The decision to arrest him was mooted days later but, with no legal backing, police could not execute their plan. Detectives investigating the deaths believe it is after his release that Mackenzie retreated to his Shakahola home to further plan and execute his murderous plot.
Nation understands that, while police quietly continued with the investigations, they were thrown off-tangent even as they closely monitored the cult leader and his associates' whereabouts.
The job of guaranteeing that he was not arrested was assigned to some of his trusted collaborators who did not leave his side and ensured he remained incognito as his lawyer worked on a suit to prevent his rearrest.
Activities went undetected
A detective yesterday said it appears the suspect succeeded in this plan as the cultic activities went quietly and undetected in the village. But tension soon rose after more than 10 people in Shakahola and Msimba villages were seriously injured when neighbours attacked them for being followers of the church.
Locals bumped into the victims who were shopping for food for Mackenzie and his associates.
Content retrieved from: https://www.thecitizen.co.tz/tanzania/news/east-africa-news/shakahola-deaths-blunders-and-how-cult-was-discovered-4214506.