Tom Cruise's rocky road to romancing Shakira would include Scientology, her tax problems
Published By admin with Comments 0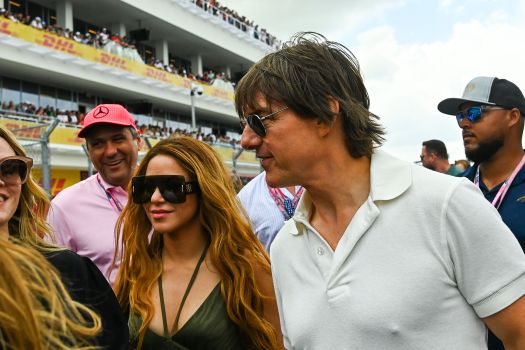 After the "Top Gun" star and the "Hips Don't Lie" singer were photographed hanging out together at the Formula 1 Grand Prix in Miami over the weekend, people began whispering about a possible romance in the works. A source told Page Six that the two have "chemistry" and he sent her flowers. "He is extremely interested in pursuing her," the source said.
That may be true but Cruise, 60, could face some serious hurdles in generating anything serious with Shakira, 46.
On one hand, the pop diva is single and presumably available, having split from her longtime boyfriend, Gerard Piqué, last June, amid allegations he was having an affair with his now-girlfriend Clara Chia Marti.
"Shakira needs a soft pillow to fall on, and that could be Tom," the source told Page Six. The source added that Cruise has the benefit of being, "a nice-looking guy, and he is talented." Page Six furthermore said that the 5-foot-7-inch Cruise might appreciate dating a woman who is shorter than him: Shakira is a petite 5 feet 2 inches.
On the other hand, Shakira is managing a very busy career as one of the best-selling female Latin artist of all time, and she's rearing her two young children with Piqué. In addition, she's mired in an ongoing tax controversy with the Spanish government, which has accused her of owing $13.9 million in taxes, as NBC News reported. A trial date is pending.
With everything Shakira has going on, would she have time to fit Cruise into her life? Especially with the way he can be so evidently intense about anything or anyone he puts his mind to?
The Cruise lore includes him jumping on Oprah Winfrey's couch to proclaim his love for third wife Katie Holmes and insisting on doing his own dangerous movie stunts. Cruise also is known for his devotion to the controversial Church of Scientology, which has reportedly caused problems in his past relationships.
He acknowledged in a 2013 court deposition that Scientology was one reason Holmes gave for leaving him; she didn't want their daughter Suri raised in the church.
A 2012 Vanity Fair report also detailed how the church tried to recruit and audition potential girlfriends for Cruise, following his divorce from second wife Nichole Kidman in 2001. As with Holmes, Kidman reportedly refused to devote herself to the church. Vanity Fair also reported that Penelope Cruz, whom Cruise dated following his breakup with Kidman, also ran afoul of Scientology because she was unwilling to forsake her Buddhist beliefs while taking Scientology courses.
Content retrieved from: https://www.mercurynews.com/2023/05/10/tom-cruises-rocky-road-to-romancing-shakira-would-include-scientology-her-tax-problems/.