Three militia members sentenced in plot to kidnap Michigan Democratic Gov. Whitmer
Published By admin with Comments 1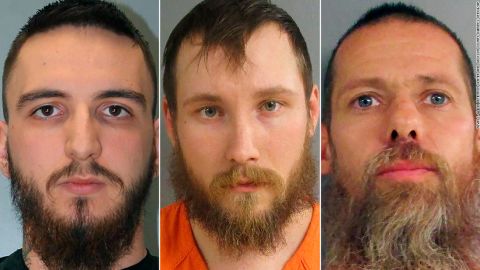 Three men were sentenced Thursday for providing material support for a terrorist act and two other state-level charges related to the 2020 plot to kidnap Michigan Gov. Gretchen Whitmer, according to a statement from the Michigan attorney general's office.
Pete Musico, Joseph Morrison and Paul Bellar, who prosecutors said are members of a militia group known as the "Wolverine Watchmen," were all sentenced on charges of gang participation, support of a terrorist act, and carrying or possessing a firearm during the commission of a felony, according to the Michigan attorney general's office. Musico and Bellar must serve a minimum of 12 years and seven years, respectively. The alleged "commander" of the group, Morrison, who, according to affidavits filed with the attorney general's office, went by the online moniker "Boogaloo Bunyan" online, must serve a minimum of 11 years.
"The defendants' ultimate goals were to kill police and elected officials and kidnap the Governor of Michigan. These extraordinarily violent ends, coupled with the unequivocal conviction from the jury, demand the maximum sentence," Michigan Attorney General Dana Nessel said in a statement.
They faced a maximum of 20 years for providing material support for terrorist acts, 20 years for gang membership and two years for the firearm charge.
A jury found the men guilty in October, CNN previously reported.
Whitmer called the sentencing of Musico, Morrison and Bellar a "powerful signal" in a video statement played in court Thursday.
Content retrieved from: https://www.cnn.com/2022/12/15/politics/militia-members-sentenced-whitmer-kidnapping-plot/index.html.