Mom's murder convictions stand in Norwood sect deaths
Published By admin with Comments 1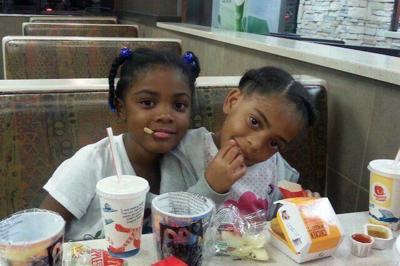 The mother of two girls who died on a Norwood farm in 2017 remains convicted of first-degree murder.
The Colorado Court of Appeals denied Nashika Bramble's attempts to set aside the convictions and the mandatory life sentences handed down in the case, in which four other members of Bramble's religious group also were charged with various offenses.
Bramble was part of a small, traveling religious sect that in 2017, was invited to live on a Norwood farm. Her two children, Hannah Marshall, 8, and Makayla Roberts, 10, came with her and others.
In the span of a few months, sect leader Madani Ceus had banished the girls to a car on the property over perceived impurity. She eventually decreed they could not be fed anything she produced.
The sisters perished in the car, parked within hailing distance of where the group was living as they prepared for an apocalyptic event. A pathologist would later say the children likely succumbed to heat, dehydration and starvation, although their cause of death could not be pinpointed.
Bramble was the only defendant to be convicted of murder. Three others — sect leader Madani Ceus, Ika Eden and Ashford Archer — were convicted of child abuse resulting in death and received lengthy prison terms, ranging from 24 to 96 years. (Ceus had also been charged with murder, but was acquitted of those counts.) Ceus and Ika Eden's appeals are ongoing, while Archer wants the Colorado Supreme Court to review the denial of his.
Farm owner and sect member Frederick "Alec" Blair pleaded guilty to an accessory charge and was sentenced to 12 years.
In her appeal, Bramble argued the trial court violated her constitutional rights by improperly limiting the testimony of a cult expert. Her appeal also contended the Montrose District Court erred in excluding a letter of Ceus' as hearsay.
The Colorado Court of Appeals disagreed, affirming the judgment on Thursday, Dec. 15.
At the 2019 trial, expert witness Janja Lalich was allowed to testify as to how cults and cult leaders tend to operate, as well as that it is typical for parents to be manipulated into surrendering control of their children to the cult.
Under a pretrial order, Lalich was not allowed to provide an opinion concerning criminal liability in the specific case. Bramble — whose defense included argument that she was under Ceus' sway and feared eternal consequences for disobeying her — contended that the jury should have been allowed to hear Lalich render an expert opinion, specific to the case.
The appeal argued such testimony would be key to helping jurors understand why Bramble did not rescue her daughters.
"We do not discern reversible error," the three-panel appellate court ruling states.
The question of Lalich's testimony was fully litigated in pretrial motions. Lalich had produced findings based on review of case documents, concluding the group was a cult and only Ceus made individual decisions. Bramble, she said, was "true believer" who could only obey.
Lalich had not interviewed either Ceus or Bramble.
Prosecutors wanted her kept off the stand altogether, calling her findings speculative and also more fitting for a duress defense, which cannot be raised for first-degree murder.
After first ruling Lalich's testimony inadmissible, the trial court granted a motion to reconsider, allowing the expert to provide limited testimony about "self-sealing systems" cults and "bounded choice." The ruling prohibited her from testifying about what she thought had occurred in the Norwood case.
The District Court ruling did not prevent Bramble from presenting a defense, the appeals court found.
At trial, other group members testified that Ceus controlled everything, including whether group members ate. Jurors also heard that Ceus required members to reject individual identity, destroy personal belongings and cut off communication with family and friends.
Further, "Lalich testified about cult dynamics and effects, including that it is common for cult leaders to deprive their members of food or sleep as a means of manipulation," the Dec. 15 appellate order states.
Given that, Lalich's case-specific testimony was not Bramble's only means of presenting an effective defense. The admitted evidence "was overwhelming as to the contested issues at trial and the excluded evidence had no bearing on those issues," the decision goes on to state.
Appellate judges further rejected Bramble's argument that, due to being in thrall to Ceus and fearing damnation for disobedience, she could not have acted "knowingly," as the statute defining first-degree murder requires.
Lalich's testimony wasn't being offered to demonstrate her mental condition and Bramble also did not raise impaired mental state as an affirmative defense at trial, the appellate court said.
Because no evidence admitted at trial would have supported a duress defense, the lower court was correct to deny a mid-trial motion to instruct the jury on such a defense. Bramble had not challenged the court's decision, or argued that such a defense was available to her. In short: It did not come before the jury, and it did not come before the Court of Appeals.
The excluded Lalich testimony would have helped "only if the evidence would have tended to show that Bramble did not, on the charged occasion, actually form the 'knowingly' mental state to commit first-degree murder."
The expert's testimony "would not have shown or suggested that Bramble was unaware that she was depriving the children of food, water and proper shelter," the order states.
"Moreover, the admitted evidence overwhelmingly showed she was aware of this nature and circumstance."
Nor would have the testimonial evidence that was disallowed shown that Bramble was not aware her own conduct was practically certain to cause her daughters' deaths: In speaking with law enforcement, Bramble said it was her job to 'guard' her daughters as they stayed in the car without food or water. She knew they were nearing death "because they were crying out for help," the Dec. 15 order states.
When it was her turn to be banished to a vehicle, Bramble acted to save herself, demonstrating that she knew what would happen if she remained there without food or water.
The judges found that even if Lalich had offered case-specific opinions, they would not have tended to show Bramble didn't know what would happen if she stopped bringing her children sustenance. Instead, it might have just explained why she did not act to save them — not that she didn't realize they would die without food and water.
The testimony would not have negated this likely cause of death, or affected the verdict in that regard.
Bramble's appeal also argued cumulative error because the trial court should not have ruled two pages of Ceus' writings to be hearsay.
In this letter, Ceus — who at her own sentencing hearing denied being in charge of the group — claimed to be a god. Bramble had wanted the letter admitted because it showed Ceus' state of mind; prosecutors said that was not relevant and that several witnesses had already testified that Ceus claimed divinity.
Ceus called herself Yahweh — the Hebrew name of God — and claimed the ability to "reap souls," according to testimony.
"We perceive no prejudice as a result of the court's decision," the Court of Appeals said.
To reverse on cumulative error, the court would have to find many irregularities that, taken together, demonstrate a defendant did not receive a fair trial.
In Bramble's case, the court found only one possible evidentiary error and concluded it was harmless.
"Bramble was not deprived of a fair trial," the ruling states, adding there was no dispute at trial that Ceus represented herself as a god. Even if her letter hadn't been hearsay, excluding it did not prejudice Bramble.
"Despite hearing her daughters call out for help, Bramble did not give them food or water (or alert law enforcement to their plight)," the order states.
"Nashika Bramble deserves to spend every second of her two life sentences handed down by Judge (Keri) Yoder. The stolen potential of Hannah Marshall and Makayla Roberts deserves no less," Assistant District Attorney Rob Zentner said Thursday.
"I respect the appellate decision that affirmed the jury verdict, one that punctuated that strongly held misguided beliefs, if those result in horrific illegal acts, will ultimately be addressed by our criminal justice system. These beliefs, and subsequent illegal actions of Bramble and her co-defendants, resulted in the deaths of two precious and innocent victims."
Content retrieved from: https://www.montrosepress.com/news/mom-s-murder-convictions-stand-in-norwood-sect-deaths/article_41e15820-7cc1-11ed-b9f3-1f5e56d3ea68.html.