The Unification Church, Japan and North Korea
Published By admin with Comments 2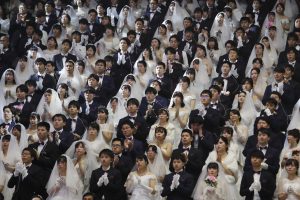 The man who assassinated former Abe Shinzo in July 2022 was motivated by the belief that the former prime minister was linked to a religious group known as the Unification Church. It was subsequently revealed that in fact many Diet members of the ruling Liberal Democratic Party (LDP) had friendly ties to the Unification Church. The revelations have prompted almost daily headlines in Japan.
The Unification Church is a religious movement that was founded in 1954 by Korean religious leader Moon Sun Myung. It was later renamed the "Family Federation for World Peace and Unification." There's no telling from that name whether or not the organization is a religion; however, in Europe and the United States, it has long been treated as a cult. Headquartered in South Korea, the group's practice of extracting huge donations from its Japanese followers to atone for Japan's occupation of the Korean Peninsula has from time to time been recognized in Japan as a social problem. Following the death of Moon Sun Myung 10 years ago, his wife Han Hak Ja became the group's leader.
In numerous testimonials, victims have reported that so-called "spiritual sales" – scaring people into buying trinkets that will relieve their families of bad "ancestral karma" or extorting large donations from followers under the pretext of solving their problems – the children of the religion's followers have been left in extreme poverty that would normally be inconceivable in Japan, a country where few people would call themselves religious, and indeed with some having developed an acute allergy to religion.
There's no disputing that Abe's assassination was the most shocking event to occur in Japan in 2022, and it has placed the Unification Church under much closer scrutiny. In the meantime, North Korea's increasingly frequent missile tests, which have seen missiles repeatedly land in the Sea of Japan, have been competing for the public's attention. At first glance, these issues might appear unrelated, but the Unification Church and North Korea are, in fact, closely linked.
Content retrieved from: https://thediplomat.com/2023/01/the-unification-church-japan-and-north-korea/.