State does not oppose Chad Daybell's request for wife's trial transcripts
Published By admin with Comments 0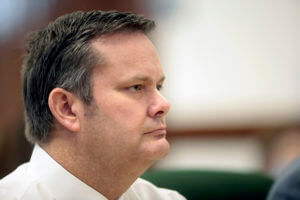 BOISE, Idaho (Court TV) — Attorneys representing accused cult leader Chad Daybell were expected to appear in court Thursday to argue motions ahead of their client's scheduled murder trial in 2024.
Minutes before the hearing was scheduled to take place, a court official told Court TV it had been vacated. The hearing was expected to cover a request by Chad's attorneys for all transcripts and exhibits from his wife's trial, Lori Vallow Daybell.
On Wednesday, prosecutors filed a document noting that they do not oppose Chad's request for Lori's trial transcripts.
Chad is charged with conspiracy and murder in the deaths of his first wife, Tammy Daybell, as well as the two youngest children of his second wife, Lori Vallow Daybell. Lori was convicted of conspiracy and murder for Tammy and her children after the two cases were severed last year.
Content retrieved from: https://www.courttv.com/news/chad-daybell-back-in-court-for-motions-hearing-ahead-of-trial/.