Prosecutors ask judge to move Chad Daybell's trial
Published By admin with Comments 0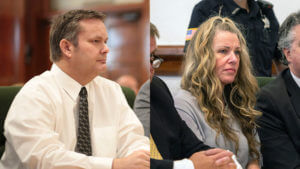 FREMONT COUNTY, Idaho (Court TV) — Prosecutors preparing their case against Chad Daybell have asked a judge to reconsider his decision, for a third time, to move the trial out of Fremont County.
Chad Daybell is charged with murder and conspiracy to commit murder in the deaths of his first wife, Tammy, and the two youngest children of his second wife, Lori Vallow Daybell. Lori was convicted of the same charges in May and sentenced to life in prison without the chance of parole.
In a motion filed on Wednesday, prosecutors have renewed their request to Judge Steven Boyce to keep the entirety of Chad's trial in Fremont County rather than move it to Ada County.
Chad is currently housed in the Fremont County Jail, but the charges he's facing are out of Fremont County where Tammy's death occurred and the children's bodies were found. While all pretrial hearings have been and will continue to be held in Fremont County, the trial is scheduled to be held in Ada County.
Content retrieved from: https://www.courttv.com/news/prosecutors-ask-judge-to-move-chad-daybells-trial/.