Murderous cult's Brooklyn 'house of evil' — where children were kept in cages — burns down
Published By admin with Comments 0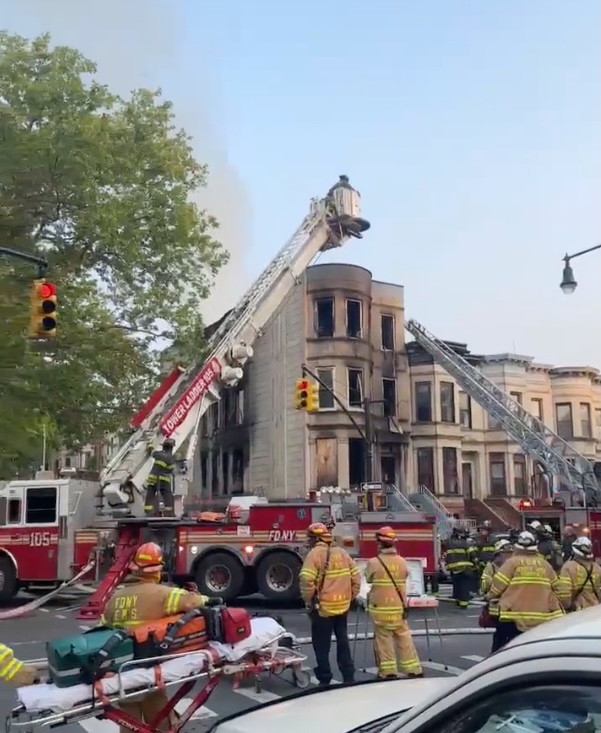 A Brooklyn building known for being the site of multiple homicides is no more.
Early Wednesday morning, a four-story Crown Heights rowhouse erupted in flames, incinerating the home's interior.
The two-alarm fire at 222 Brooklyn Ave. began around 5 a.m. and took over 100 FDNY firefighters to put out, four of whom were injured in the process, the Brooklyn Paper first reported.
The blaze — which also spread to an adjacent residence — left No. 222's facade a charred, visibly collapsing shell.
The fiery fate of the landmarked lodging comes decades after it first became notorious.
Known as the "house of evil," the historic abode may look unassuming from the outside, but it was the longtime headquarters of "pastor" Devernon "Doc" LeGrand's "church."
LeGrand, a father to 46 children, would ply teens with drugs and booze, seduce them and initiate them into his Brooklyn "commune" at the residence, where he'd then abuse them and force them to panhandle in nun garb.
Children were kept in cages, starved and beaten at the building until cops busted LeGrand on child-abuse charges in 1965, The Post previously reported.
Content retrieved from: https://nypost.com/2023/05/25/murderous-cults-brooklyn-house-of-evil-burns-down/.