Is Steven Hassan following in the footsteps of George Santos?
Published By admin with Comments 1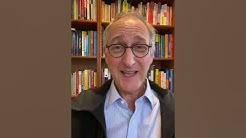 Political pundit Steven Hassan has a penchant for conflating his CV and at times just plain lying about his past status. And he seems to have an obsession about Harvard.
Again, and again Hassan claims to have taught at "Harvard Medical School."
This misleading claim was repeated recently by Michael Shermer at his "Skeptic" website by way of introducing Hassan on the "Michael Shermer Show." It seems that there wasn't any meaningful examination and ultimately skepticism, concerning Hassan's career claims.
According to the iconic "Ivy League" university Steven Hassan has never been employed there.
Hassan offers a letter posted at his website, seemingly in response to a past report at CultNews, which supposedly supports his misleading professional claims.
The letter is from John R. Peteet, M.D. Dr. Peteet, who is an Associate Professor of Psychiatry at Harvard Medical School. In the letter sent to Hassan in 2019 he states that Hassan "has served as a valued presenter in the course I co-teach, Spirituality, Religion and Psychiatry." Dr. Peteet teaches this class at Harvard Longwood, which is a hospital associated with Harvard.
Steven Hassan's CV repeatedly lists the title of "presenter" under the subheading "Professional Activities," but he does not make the explicit distinction that this was only guest volunteer work.
CultNews sees this as potentially misleading the reader to conclude that Hassan worked for Harvard as a paid professional.
CultNews reached out to Dr. Peteet to better clarify and understand specifically the actual status of Steven Hassan at Harvard Longwood.
Content retrieved from: https://cultnews.com/2023/02/is-steven-hassan-walking-recklessly-in-the-footsteps-of-george-santos/.