In 'Koresh,' a study of a cult leader and the siege and raid of his compound in Waco
Published By admin with Comments 0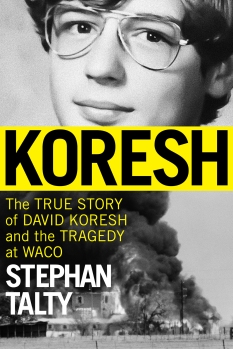 In 1984, Vernon Howell revealed that God had been speaking to him since he was a child. And he announced he was "the Seventh and Final Angel," who would lead Branch Davidians through the Apocalypse. Sometime later, a colleague suggested that a true prophet should be named David-ben-David — and Vernon Howell became David Koresh.
"You know we're in a cult," he told one of his followers. "I mean, do you ever fear I might turn into another Jim Jones and give y'all the Kool-Aid." In time, AR-15s, anti-tank rifles, grenades and gas masks flowed into the Branch Davidian compound.
In "Koresh," a work of creative nonfiction inspired by Norman Mailer's classic, "The Executioner's Song," Stephan Talty (the author, among other books, of "The Black Hand" and "The Good Assassin") provides a psychological portrait of the charismatic leader of the Branch Davidians, and a riveting account of the ATF raid and FBI siege of their compound in Waco, Texas, in 1993.
Talty's immersive storytelling, which features Koresh's thoughts and inner turmoil, produces a more dramatic narrative. It humanizes a man who has often been dismissed as insane or satanic. But the approach also undermines the narrative's credibility. And all too often, Talty's authorial interjections — Koresh was insecure, lacked empathy, enjoyed humiliating men, spiraled into self-loathing and depression — tell readers what he has already shown them.
"Koresh" is at its best when Talty draws on transcripts of negotiations between government officials and Branch Davidians, and of bugs placed in the compound, to describe the 51-day standoff and its tragic end.
The ATF raid, Talty demonstrates, lacked three elements essential to success: surprise, superior firepower and speed.
During the siege, we learn, the FBI enlisted 899 people, including federal agents, U.S. Customs officials, members of the U.S. Army, Texas National Guard, Texas Rangers, Texas Department of Public Safety, the county Sheriff's Department, and Waco police. Negotiators joked with Koresh about whether Mel Gibson would play him in a movie; Davidians paid $1,000 for milk deliveries for their children.
And the FBI considered a range of options to end the siege, including having a sniper shoot Koresh; storming the building; and using a machine developed by Russian scientists that could send subliminal messages. Attorney General Janet Reno gave the go-ahead for shooting tear gas into the compound, Talty suggests, because she believed the Davidians were abusing children.
Branch Davidians, Talty demonstrates, set the fires that destroyed the compound. Nor is there evidence that bullets fired by anyone outside the compound wounded or killed any members of the group.
Content retrieved from: https://www.pilotonline.com/2023/05/31/in-koresh-a-study-of-a-cult-leader-and-the-siege-and-raid-of-his-compound-in-waco/.