'Dances With Wolves' actor and alleged cult leader faces additional charges in Canada
Published By admin with Comments 0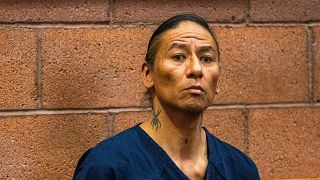 The actor, 46, has been accused of sexually abusing Indigenous girls and women for two decades in multiple states in the US. He now faces additional charges in Canada.
Former "Dances With Wolves" actor, Nathan Chasing Horse, is now facing nine further charges, including sexual exploitation, sexual assault, and removing a child from Canada under the age of 16, according to warrants issued by Canadian police.
Tsuut'ina Nation Police Service stated on Tuesday that the investigation has spanned multiple years, with one of the alleged offences dating back to 2005.
Chasing Horse has been held in custody in Las Vegas since his arrest in January, where he is facing 18 felonies, including sexual assault of a minor, child abuse, and kidnapping.
Content retrieved from: https://www.euronews.com/culture/2023/06/14/dances-with-wolves-actor-and-alleged-cult-leader-faces-additional-charges-in-canada.