Condemnation pours in after woman seriously hurt by Jerusalem ultra-Orthodox rioters
Published By admin with Comments 1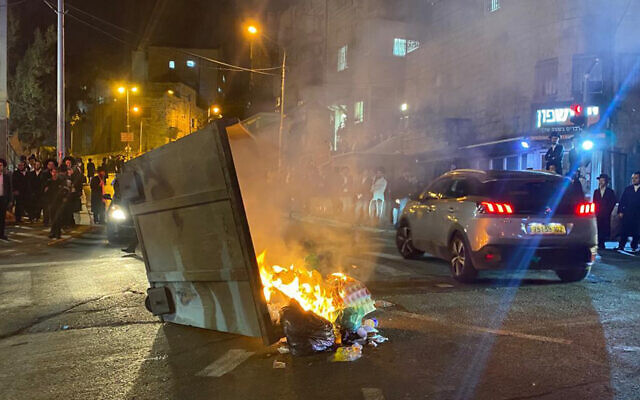 Lawmakers from across party lines on Friday condemned violent demonstrations in Jerusalem by hundreds of ultra-Orthodox extremists the night before in which a woman was seriously injured.
The 40-year-old woman, a mother of 10, was hospitalized with light injuries after she was hit by a burning trash bin sent rolling by the protesters. Overnight, her condition deteriorated and she was listed in serious condition by the morning.
The demonstration in the capital's Mea Shearim neighborhood erupted in response to the arrest of a man suspected of torching a cell phone store several months ago.
Outgoing Prime Minister Yair Lapid wished for "a quick recovery to the woman seriously injured yesterday in Haredi protests in Jerusalem."
"I call on the police to quickly investigate and severely punish the culprits," he tweeted.
With the incident coming during the transition between the outgoing government and the anticipated coalition of far-right and ultra-Orthodox parties together with Likud, the presumed incoming government ministers were eager to show their hardline security calls applied across community lines.
Prime minister-designate Benjamin Netanyahu tweeted his condemnation of the violence "at the hands of ultra-Orthodox extremists in Jerusalem."
"I call on the police to catch those responsible for the crime and to deal with them to the full extent of the law. There is no place for violent riots on the streets of Israel," he said.
Content retrieved from: https://www.timesofisrael.com/condemnation-pours-in-after-woman-seriously-hurt-by-jerusalem-ultra-orthodox-rioters/.