Amid Ongoing Iran Protests, Congress Boosts Cultish MEK Exile Group
Published By admin with Comments 1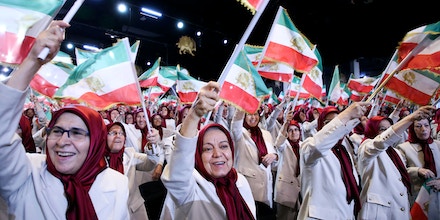 As Iranians both inside Iran and in the diaspora organize against the Islamic Republic, a bipartisan collection of over 160 members of the U.S. Congress this week put forward a resolution endorsing an exiled opposition group with a past of hard-line militancy that has been credibly accused of cult-like behavior.
On Thursday, Rep. Tom McClintock, R-Calif., held a congressional briefing to introduce House Resolution 100, with the expressed aim of lending support to Iranians protesting for "a democratic, secular, and nonnuclear Republic of Iran." The introductory speaker at the session was Maryam Rajavi, the head of the Mojahedin-e Khalq, or MEK, an Iranian exile group previously listed as a terrorist organization that has been accused of brainwashing and sexual abuse of its members.
"It is no exaggeration to say that perhaps nothing unites Iranians of today than opposition to the MEK and their agenda," said Arash Azizi, an Iranian historian and political commentator, who described the group as a "brutal cult." "Not only are they not popular amongst Iranians, they are despised and hated by Iranians across the political spectrum."
This perception of the MEK among Iranians has not stopped many U.S. politicians who claim to support democracy in Iran from providing consistent support to the group. Congress has long been a stronghold of support for the MEK. The group boasted a robust lobbying operation before it was listed in the late 1990s as a terror group, and then spent years lobbying through cutouts to be removed from the terror rolls. The group has long appealed to hawks in Washington who advocate for war with Iran and a U.S. policy of regime change.
The text of the new bill is pegged to the recent wave of protests and repression in Iran, noting with favor a 2018 rally held by the MEK in Paris calling for regime change in Iran. While the bill does not name the group specifically, it points to "opposition leader Mrs. Maryam Rajavi's 10-point plan for the future of Iran" as a starting point for change. In her remarks at the briefing, Rajavi thanked the supporters of the measure for "this very important bi-partisan congressional initiative in support of the people of Iran and the Iranian Resistance."
Content retrieved from: https://theintercept.com/2023/02/11/iran-protests-mek-congress-maryam-rajavi/.