Wading into Brexit, jokes about 'attractive' female successor and accepting $1million to endorse a women-branding 'sex cult': The Dalai Lama's biggest controversies after THAT disturbing 'tongue suck' video
Published By admin with Comments 0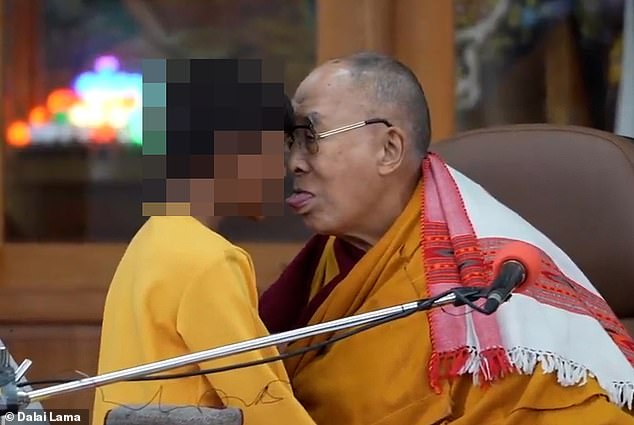 The Dalai Lama has come under fire after a video showing him kissing a young child and asking him to 'suck' his tongue went viral, forcing him to issue an apology.
The clip of the Tibetan spiritual leader triggered criticism, including from the Survivors Network of Those Abused by Priests, a US-based organisation that supports the survivors of spiritual and religious abuse.
The group expressed their disgust on Monday following the emergence of the disturbing footage, which showed the young Indian boy kissing the Dalai Lama on the lips as he came forward to pay his respects during a charity event at a temple.
The incident occurred at a public gathering in February at the Buddhist Tsuglagkhang temple in Dharamsala, where the exiled leader lives. He was taking questions from the audience when the boy asked if he could hug him.
The incident has recalled some of the Dalai Lama's past controversies. He has previously faced backlash for his comments on the possibility of his successor being a woman, about refugees in Europe, about Pakistan and India, on Donald Trump, and for being paid $1million to attend an event hosted by an infamous NXIVM 'sex cult'.
In an interview with the BBC in 2015, the Nobel Peace Prize winner – whose given name is Tenzin Gyatso – recalled telling a French journalist ten years earlier that he hoped there would be a female Dalai Lama in the future.
This, he said, was because women had a greater 'biological' capacity 'to show affection' and 'compassion'.
But, he said, there was a caveat. 'I think female[s] should take more important role and then – I told the reporter – if a female does come her face should be very, very attractive,' he told the BBC's reporter.
Content retrieved from: https://www.dailymail.co.uk/news/article-11960177/The-Dalai-Lamas-biggest-controversies-disturbing-tongue-suck-video.html.