Scientology Apparently Dictates Which of Tom Cruise's Kids He Can See, & Suri Didn't Make the Cut
Published By admin with Comments 0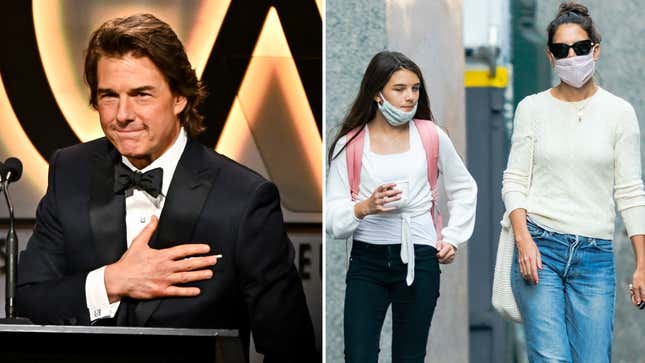 Apparently, little has changed in Tom Cruise and his teenage daughter Suri's relationship—or, rather, non-relationship—since his 2011 split from her mom, Katie Holmes. Page Six reported Wednesday that Cruise hasn't "seen the 16-year-old [Suri] in a very long time and is not a part of her life." This isn't exactly a new development: In 2012, transcripts from Cruise's defamation lawsuit against Bauer Media Group for its coverage of him in Life & Style magazine show Cruise confirming that he hadn't seen his daughter in months at the time, and other reports have alleged his absence from her life in the last several years. With this latest report, it's jarring how completely removed Cruise remains from his own child's life after all this time—all, of course, due to his allegiance to the very bizarre Church of Scientology.
In a deposition in 2013, Cruise acknowledged that Scientology was the reason for his estrangement from Suri. When lawyers asked point black whether Holmes ended their marriage "in part to protect Suri from Scientology," Cruise answered, "That was one of the assertions, yes." In 2016, Page Six reported that Cruise hadn't seen Suri in three years due to an internal Scientology rule prohibiting members from fraternizing with non-members. "This is his loss, his issue, his problem. He must be really brainwashed," a source said at the time, implying Cruise had chosen the church over his child.
This same rule has reportedly strained the relationships between Cruise's other ex, Nicole Kidman, and her shared kids with him, as they're also devoted Scientologists. Cruise retained custody of both of the children when their divorce was finalized in 2001. As recently as 2019, Kidman was prohibited from attending her son Connor Cruise's wedding, per a source who claimed that "Tom is behind this and what he wants is as good as law. Tom made the call and Connor followed." The same source claimed, "Connor worships the ground his father walks on and would never disobey Tom" and that "Tom would never even consider inviting Nicole to Connor's wedding because she's considered a 'suppressive person' by the Church." Connor's wife, Silvia Zanchi, notably appears to be a high-ranking Scientologist.
Kidman also wasn't present at daughter Bella Cruise's 2015 wedding, which was a private Scientology ceremony. In 2019, Bella reportedly completed a "brutal" internship to gain a high-ranking role as a church auditor.
Content retrieved from: https://jezebel.com/scientology-apparently-dictates-which-of-tom-cruises-ki-1850253752.