Jan. 6 rioter who wielded police shield invokes Ray Epps conspiracy theory at Proud Boys trial
Published By admin with Comments 0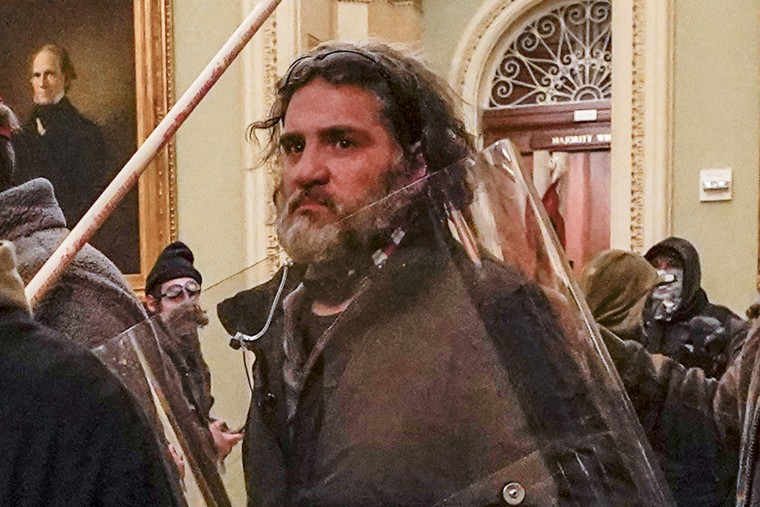 WASHINGTON — A member of the Proud Boys who is on trial charged with seditious conspiracy used his courtroom testimony on Wednesday to try to advance a conspiracy theory about a fellow Jan. 6 participant.
Dominic Pezzola, a member of the far-right extremist group who smashed in a U.S. Capitol window with a stolen police shield, said while testifying is his own defense that the pro-Trump protester Ray Epps was a "suspected government operative." Federal prosecutors moved to strike Pezzola's claim, and U.S. District Judge Timothy Kelly, who was appointed by President Donald Trump, agreed to remove his comments from the court record.
Far-right conspirators have alleged that Epps was working with the federal government and sought to provoke violence during the 2021 attack on the Capitol.
Epps, who has said conspiracy theories had a significant impact on his life, told the House Jan. 6 committee that "the crazies started coming out of the woodwork" after conservative members of Congress and commentators referred to him by name. On the eve of the insurrection, Epps had called for protesters to enter the Capitol, but the next day he was seen on video trying to calm protesters and maintain a line between police and the pro-Trump mob.
Epps is seeking a public retraction from Tucker Carlson and Fox News over "false and defamatory statements" alleging that he was secretly working with the federal government on Jan. 6.
Pezzola is on trial alongside fellow Proud Boys members Enrique Tarrio, Ethan Nordean, Joseph Biggs and Zachary Rehl. The seditious conspiracy trial has been underway for more than three months. Jury selection began in December, and opening statements took place the next month.
Under questioning by his attorney Steven Metcalf on Wednesday, Pezzola said there was no plan to storm the Capitol ahead of Jan. 6, and he depicted himself as an average Joe who had just stumbled into situations and made some poor decisions.
"Our only plans were to maybe storm the liquor store. That was it," he said.
Content retrieved from: https://www.nbcnews.com/politics/justice-department/jan-6-rioter-invokes-ray-epps-conspiracy-theory-proud-boys-trial-rcna80386.