Inside the Mormon city at center of Lori Vallow's 'doomsday cult': Rexburg is where her murdered children's mutilated bodies were found – yet Chad Daybell's family STILL live next to graves and some claim he's INNOCENT
Published By admin with Comments 0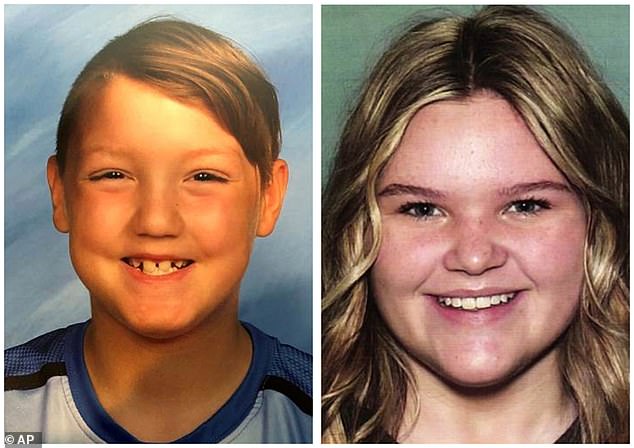 For years, the small Mormon enclave of Rexburg in east Idaho has proudly dubbed itself 'America's family community' – a slogan that's emblazoned on municipal buildings around the city as a symbol of its fierce embrace of traditional values.
But in 2019, that reputation was upended and the little-known community gained national attention for another reason: the epicenter of a 'murderous cult' which shocked America.
Lori Vallow, a blonde beauty pageant-winning mom from California, allegedly murdered her two children, Tylee Ryan, 16, and Joshua Jackson 'JJ' Vallow, seven. Vallow and her husband, doomsday obsessed author Chad Daybell, were convinced the children were 'zombies' possessed by evil spirits.
Their mutilated bodies – Tylee's burned beyond recognition and JJ's bound in trash bags and duct tape – were buried in shallow graves at Daybell's yard on the fringes of Rexburg.
Vallow, whose murder trial began on April 10, and Daybell told followers they were chosen by God to lead 144,000 humans through the second coming of Jesus Christ – and Rexburg was the sanctuary where 'warriors and soldiers' should gather.
The fallout in Rexburg is a town desperate to shake off its newfound infamy, but still gripped by the troubling case whose central figures were once friends, neighbors and fellow worshippers.
City leaders talk publicly about the desire to find justice and 'move on', while locals watch screenings of Vallow's trial in the Fremont County Courthouse and gossip over the chilling-but-captivating testimony.
Behind closed doors, there is soul-searching about Vallow and Daybell's manipulation of the Mormon faith, which an estimated 95% of the town's 33,500 people subscribe to.
And, what's perhaps most jarring, it's said there is still a small 'underground' sect who refuse to believe Daybell – once viewed as a nothing more than a weird but 'faithful' follower of Christ – is guilty.
Peggy Jeppesen, a local who helps maintain a memorial wall for JJ and Tylee beside the Daybell property, said: 'I hope there isn't skepticism anymore. I hope not. But I wonder, because even now, there are people that just don't want to discuss it, just really choose to believe that he isn't what he's accused of being.'
Content retrieved from: https://www.dailymail.co.uk/news/article-12022527/The-Mormon-city-center-Lori-Vallows-doomsday-cult.html.