How Shinzo Abe's murder and his ties to Moonies blindsided Japanese politics
Published By admin with Comments 1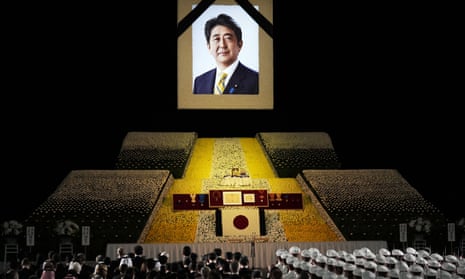 In the days after Shinzo Abe was shot dead last summer while making an election campaign speech, commentators struggled to articulate a motive for a seemingly senseless attack on Japan's former and longest-serving prime minister in a country admired for its near-absence of gun crime.
Abe's violent death was an affront to democracy, said the prime minister, Fumio Kishida, adding that his mentor would be honoured with a state funeral.
But Kishida was mistaken if he believed that Abe's controversial, and expensive, official farewell would achieve closure. Eight months on, the fallout from the assassination is still being felt throughout Japan's politics and will continue well into this year. It has sent Kishida's approval ratings into a nosedive, triggered ministerial resignations, and ensnared hundreds of ruling Liberal Democratic party [LDP] politicians.
At the heart of the scandal lies the Unification church, whose members are known colloquially as Moonies. Founded in South Korea in 1956 by the self-proclaimed messiah Sun Myung Moon, the church has established a global presence – it once claimed to have about 3 million followers – with Japan proving fertile ground for converts and their donations.
Content retrieved from: https://www.theguardian.com/world/2023/jan/10/how-shinzo-abe-ties-to-moonies-unification-church-blindsided-japanese-politics.