How faith turned deadly for Kenyan cult followers who chose starvation as path to salvation
Published By admin with Comments 0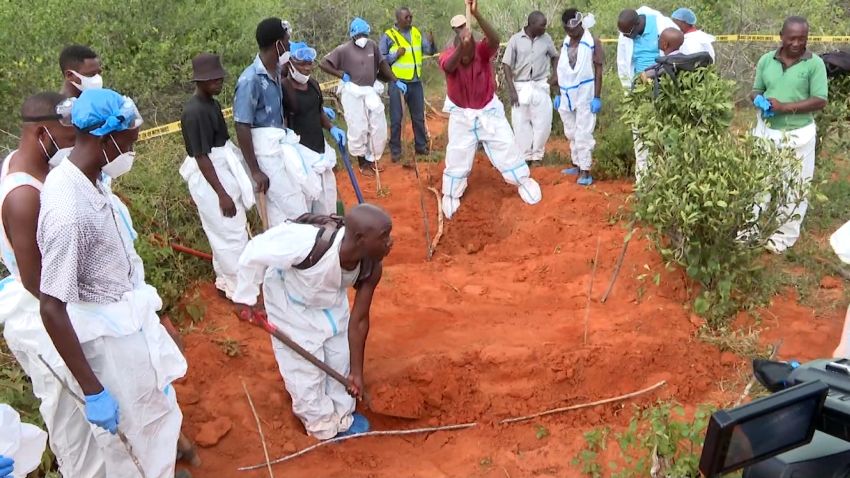 The reddish soil of the Shakahola forest is still giving up its terrible secrets. Two hours drive from Kenya's coastal tourist town of Malindi, forensic teams turn off the tarred road into a thicket of thorn bush, entering a crime scene that came to light in mid-March.
CNN has traveled here as investigators uncover what could become one of the worst mass suicides in recent memory.
Detectives say that the cult community was split into eight separate settlements with biblical names such as Galilee and Bethlehem. In site after site, shallow graves disturb the dirt. Many of the graves were unmarked.
Already, more than 300 sets of bodies have been recovered. But Kenyan interior ministry officials say that scores of mass graves remain.
The cult was preparing for the end of the world under the instruction of their its powerful pastor, say investigators.
Followers believed that starvation was their ticket to their salvation
A charismatic leader
The revelation of mass graves has dominated headlines and shaken the collective psyche in a country where faith and religion are central.
Many find it difficult to comprehend the dark path that Pastor Paul Nthenge Mackenzie allegedly took his followers along.
But the trajectory it is all too familiar for cult specialists and psychologists. They contend that the "Shakahola Massacre," as it has been dubbed, bears all the hallmarks of destructive cults past and present.
"The pastor called me. He called me and said, 'my daughter, you are being left behind. When the ark is closed, you will be too late,'" says Agnes, as her children play on a reed mat in her yard in Malindi.
Like many former cult members, she was unwilling to share her full name.
Agnes, now 26, joined Mackenzie's church when she was still in high school along with other members of her family.
In Kenya, there is an old joke that if you lose your job, start a church or a charity. And sometime in the early 2000s, Mackenzie abandoned his job as a taxi driver and launched the Good News International Ministry.
Mackenzie became known for his fiery sermons. He drew a significant following, says an assistant pastor who worked with him for years until they had a falling out.
He did not wish to be named as he said he is a witness in the investigation.
"In the beginning, the church was good, there were no issues. The sermons were normal, but from 2010 his 'end time' messages began. It happened step by step," he says.
The assistant pastor says Mackenzie told his followers to pull their children out of school, discard their national IDs, avoid hospitals, and start preparing for the end of the world. Investigators say they have corroborated those details.
He drew in flight attendants and social workers; paramilitary police and professionals from all across Kenya.
At a recent hearing Mackenzie denied all knowledge of the horrors that witnesses, inspectors, and survivors believe happened in the Shakahola forest.
"I can tell nothing about that. Because I have been in custody for two months. So, I don't know what is going outside there. Have you been there?" he asked CNN.
When asked about the accusations that followers of his group had starved their children following his instructions, Mackenzie said he had "never seen anybody starving."
The pastor and his closest followers have been in custody since the mass graves were discovered, although they are yet to be charged as prosecutors continue to ask the court to extend the custody period to allow further investigation.
Content retrieved from: https://www.cnn.com/2023/06/19/africa/kenya-starvation-cult-explained-intl-cmd/index.html.