Growing up in the Mormon church, Zaide was told his father was 'the worst thing you could be'
Published By admin with Comments 0
Zaide Harker recalls the night his dad, a former Mormon missionary and father of four, came out as gay.
"He took me out to dinner and was all nervous. He bought me five courses of food. I could tell he was building up to something," says the 26-year-old.
"He came out to me at the end of our meal, and I was like, 'Dad, I appreciate all the food but … I already know you're gay.'"
This disclosure was the culmination of 14 years of rumours, secrecy, and bitter acrimony that would shatter how the Harkers thought of their faith, heritage, and family.
For Zaide, the whispers about his father's identity crisis had become difficult to ignore.
"The neighbourhood joke was that, 'Oh Brad's secretly gay. You know he's married but he's so effeminate and he wears hot pink short shorts and hangs out with a lot of men.'"
And in their deeply conservative community, homosexuality was unacceptable.
"Being gay was not OK," says Zaide. "It was probably the worst thing you could be."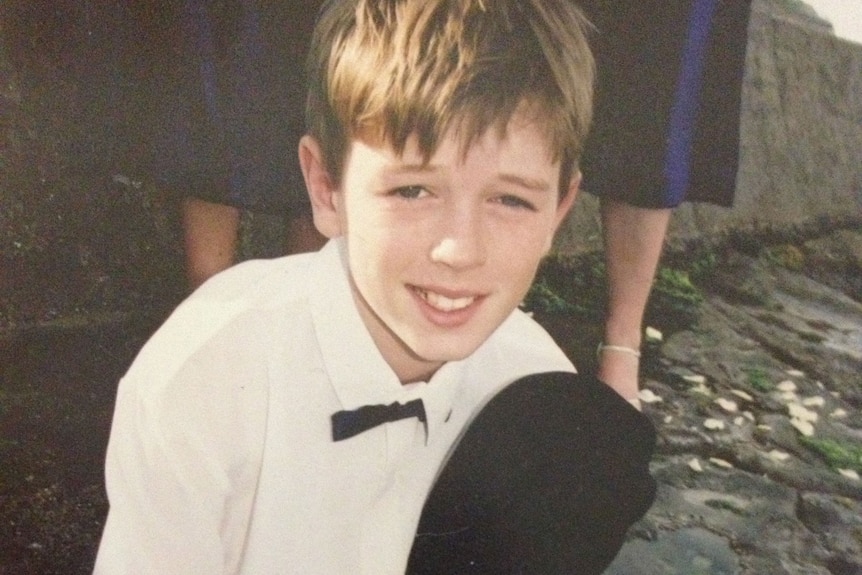 Zaide recalls hearing rumours about his father's sexuality when he was younger.(Supplied: Zaide Harker)
Life as a Mormon missionary
Zaide's father Brad is a sixth-generation descendant of The Church of Jesus Christ of Latter-day Saints – better known as Mormons — based in Utah.
He'd been a committed missionary, baptising dozens of people with the aim of securing their entry into heaven along with him.
Watch stories of faith on Compass
Compass explores the Australian soul: our beliefs, our ethical dilemmas, and the changing face of our spirituality. Hosted by Indira Naidoo.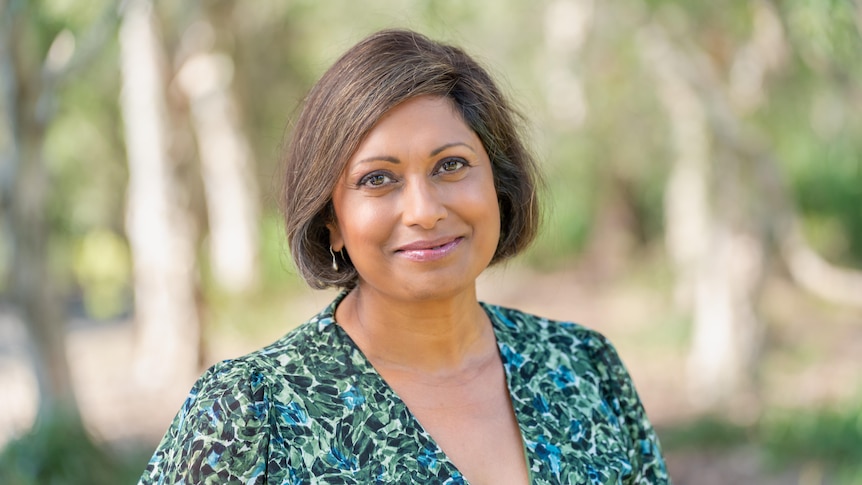 Read more
His singular mission to convert others and start his own family in the Mormon faith was due to what Brad now calls religious "programming".
"The church says we need to be in heterosexual relationships, and that's what brings us to heaven," explains Brad.
"Without that heterosexual relationship, you cannot obtain a place in heaven. In fact, you can't even be with your own family in the afterlife.
"It's a struggle to live with that belief your whole life and be gay underneath."
Brad recalls praying for his same-sex attraction to disappear.
"I was going to church, but it tormented me," he says. "I felt a great deal of guilt."
Chastity and chasing redemption
The issue of non-heterosexual attraction remains unresolved within the Church of Latter-day Saints.
On its website, the church advises: "While same-sex attraction is not a sin, it can be a challenge."
The general handbook instructs members who feel same-sex attraction to strive to "live the law of chastity" if they wish to access the church's higher calling.
It's an unviable solution for many in the church who identify as LGBTQIA+.
By the time Brad was 28, he and his first wife had divorced.
He began dating both men and women, sparking rumours that quickly reached his church's hierarchy in Brisbane.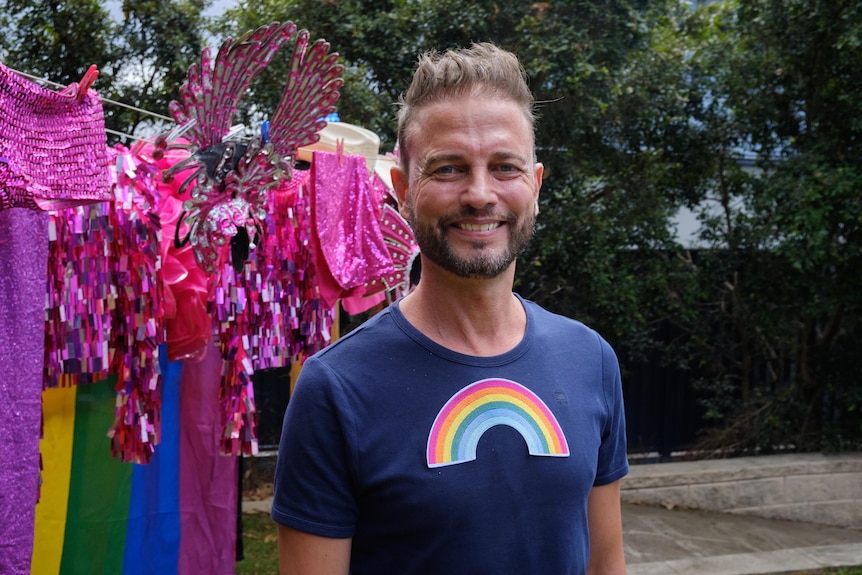 Brad Harker is a sixth-generation descendant of The Church of Jesus Christ of Latter-day Saints.(Compass: Nick Paton)
"This conflict inside me didn't allow me to be able to practice at the church. On top of that, I was also asked to leave the church."
The hurt of being stripped of his spiritual and cultural heritage cut deep. So, Brad married again and fathered two more children — chasing the redemptive promises of traditional heterosexual family life.
How young Christians deal with sexuality
For conservative Christians, sex is only OK between a husband and wife. What happens if you don't fit inside that box? That's something actor Gemma Bird Matheson has been figuring out.
Read more
"My mum asked me to stay in the closet," Brad says with a smile.
"She kept saying to me: 'Please like girls, Brad. Please like girls.'"
But Brad knew that had he stayed in his second marriage, he would've been "trapped".
"That's what it felt like," he recalls. "Shame, darkness, deceit."
"Even though I had left the church for a period of 10 years or so, I didn't feel the weight lifted from my shoulders until I came out as a gay man in my 40s."
'Caught between two worlds'
For Brad's son Zaide, who remained socially and spiritually within his church community, it was a disorienting experience.
"Having one parent in the church and one parent out of the church was very kind of polarising for us," he says.
"I hated feeling like I was caught between two worlds.
"I felt excluded all the time, which is not something that's ideal when the church is your whole social support system. Where else do you turn?"
Zaide says there was a divide between what was preached and practised in the church of his childhood.(Compass: Aaron Smith)
Zaide would eventually leave the church and, through his father, find a new "tribe".
First though, he had to reconcile his spiritual values with the church and his new reality.
Want more stories like this?
The ABC's Religion & Ethics portal is home to reporting on religion, ethical discussion and inspiring stories of faith and belief.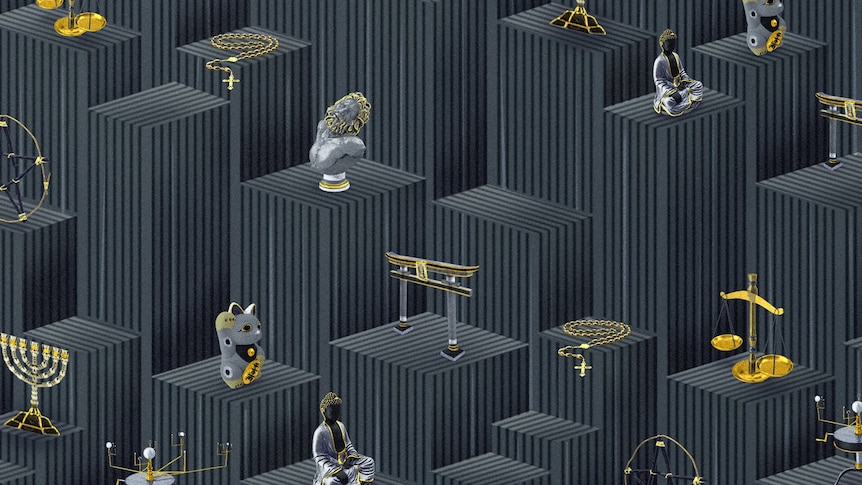 Read more
"Having that kind of religious upbringing was really important for the values and beliefs that I hold today — of accepting people as they come and giving people in my life unconditional love," Zaide says.
"[But] I saw a big divide between what was being preached and what was being practised."
After stepping away from the church, Zaide's perceptions of what constituted a virtuous life began to shift.
"Meeting all these people from different backgrounds … it was really eye-opening to see you that you can be any kind of person and still pursue a life of morality, in your own sense," he says.
Peacock Mormons and 'the truth years'
In 2013, Brad defied his Mormon family and friends by marching at the Sydney Gay and Lesbian Mardi Gras to call for greater acceptance of LGBTQIA+ people in the Mormon church.
Twelve months later, Zaide decided to march beside his father in the parade. They have returned year after year, calling themselves The Peacock Mormons.
"I used to say, when I was younger, that I was just here to support my dad," Zaide says.
"But the reality is I'm marching for myself as well, and everybody else from that community that I hold so dear."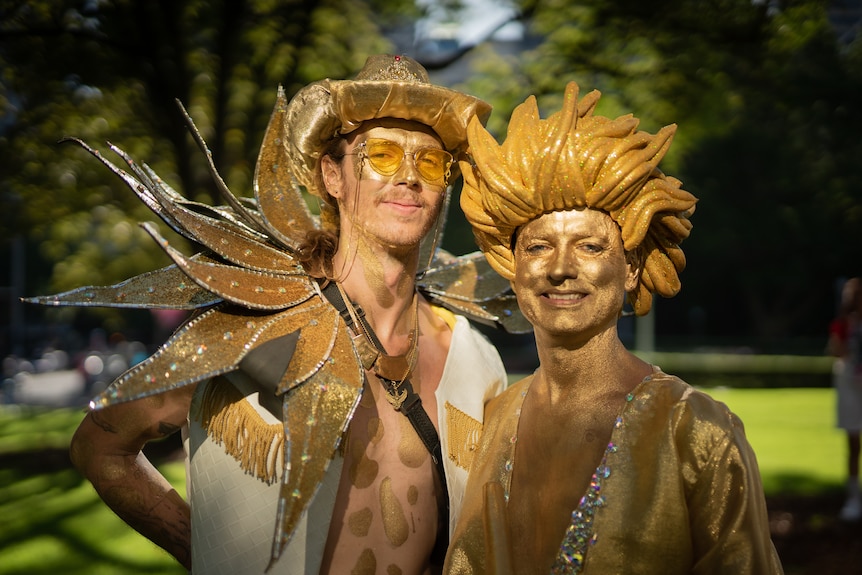 Zaide (L) has marched beside his father (R) in the Sydney Gay & Lesbian Mardi Gras since 2014.(Compass: Aaron Smith)
Brad would eventually be married again — this time to a man named Scott.
So why does Brad remain so attached to his Mormon faith despite his exclusion from it? The answer can be traced to his childhood.
"I feel that I was nurtured. I felt loved. I was taught a lot of good values by the church," Brad explains.
His campaign for change in the Mormon church is also about balancing the ledger.
Brad's advocacy has now attracted people from other faith backgrounds, including Islam, Buddhism and Christianity, along with atheists and agnostics who have become a chosen family of sorts for each other.
Together, they march in the Peacock Mormon float, calling for greater acceptance of members of the queer community in religious institutions.
"I feel like I owe the last portion of my life to the LGBTQIA+ community," he says.
"I love them and have remorse for being a missionary sometimes, teaching that 'gay was not OK', and being part of an anti-gay institution. I regret those days.
"These are the truth years for me."
Peacock Mormons, hosted by Jeremy Fernandez, airs on Compass at 6:30pm, Sunday 27 March on ABC TV and on ABC iview.
Content retrieved from: https://www.abc.net.au/news/2023-03-26/compass-peacock-mormon-missionary-lgbt-coming-out/102107396.