Four Proud Boys members found guilty of seditious conspiracy
Published By admin with Comments 0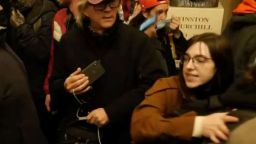 Four members of the far-right Proud Boys have been found guilty of seditious conspiracy by a jury in Washington, DC, for their roles to forcibly prevent the peaceful transfer of power from then-President Donald Trump to Joe Biden after the 2020 election.
Enrique Tarrio – the Proud Boys longtime chairman – Ethan Nordean, Joseph Biggs and Zachary Rehl were found guilty Thursday of seditious conspiracy and a range of other charges, including three separate conspiracy charges, obstructing the Electoral College vote and tampering with evidence.
The guilty verdict marks the third time that prosecutors have secured convictions for seditious conspiracy in the Justice Department's historic prosecution of those who breached the US Capitol on January 6, 2021.
A fifth defendant, Dominic Pezzola, was found not guilty of seditious conspiracy after the jury returned for several more hours of deliberation on Thursday. Unlike the other defendants in this trial, Pezzola is not alleged to have a leadership position in the organization and was inactive in Proud Boys group chats.
All five defendants were found guilty of other charges related to January 6, including: obstruction of an official proceeding; conspiracy to prevent an officer from discharging any duties; obstruction of law enforcement during civil disorder; and destruction of government property and aiding and abetting.
Each of the defendants were convicted of at least one charge that carries a 20-year maximum prison sentence, and could face a lengthy amount of time behind bars. A sentencing date for the five defendants has not yet been scheduled. District Judge Timothy Kelly said it is likely to happen in late July.
Content retrieved from: https://www.cnn.com/2023/05/04/politics/proud-boys-seditious-conspiracy-verdict/index.html.