Anastasia, the far-right Russian sect moving to Austria
Published By admin with Comments 0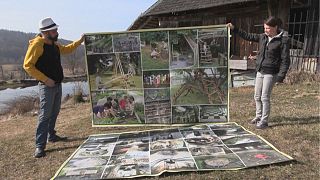 Ines and Norman Kosin are members of Anastasia, a far-right Russian sect accused of antisemitism that was inspired by the novels of Russian author Vladimir Megre.
The couple left their life on the German island of Sylt to move to an isolated estate in the southern Burgenland region of Austria.
Norman Kosin, who is a former tourist travel manager, hopes to bring "a hundred families" to what he calls "his space of love", located on the Hungarian border.
As well as contributing to Anastasia's dedicated Telegram channel, Kosin harnesses other conspiracy channels on Telegram. He uses these channels – which have a combined following of roughly 250,000 subscribers – to denounce what he calls media lies.
Norman Kosin says his convictions were strengthened by the anti-Covid restrictions, denouncing supposed brainwashing in his children's schools.
His youngest child, aged 4, goes to nursery school, but the two eldest, aged 10 and 14, have been taken out of school.
Content retrieved from: https://www.euronews.com/2023/03/26/anastasia-the-far-right-russian-sect-moving-to-austria.