2 adult wives of polygamist group leader, Samuel Bateman, make appearances in court
Published By admin with Comments 1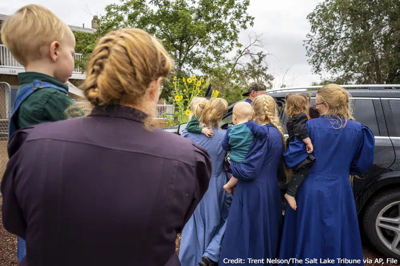 FLAGSTAFF, Ariz. – Two adult wives of polygamist group leader, Samuel Bateman, have appearances in federal magistrate court for status hearings on Tuesday, Dec. 13 in Flagstaff, Arizona. Donnae Barlow and Naomi Bistline face charges of kidnapping, obstruction, and tampering with or destroying evidence in an official investigation after eight child wives of Bateman were found in Spokane, fleeing investigators.
Bateman, 46, claims to be the prophet for a group of The Fundamentalist Church of Jesus Christ of Latter-Day Saints (FLDS) in the twin cities of Colorado Springs, Arizona and Hildale, Utah. He has at least 50 followers and 20 wives, many of whom are minors. His youngest wife is 11 years old, though he took her for marriage when she was 9.
Nine child wives were placed into Arizona Department of Child Safety group homes after Bateman was arrested in September. Eight of them ran away in November, while the youngest was apprehended during her attempt to flee. The group made their way up to Spokane with another adult wife of Bateman, 18-year-old Moretta Johnson, where they were apprehended by Spokane County Sheriff's Office at an Airbnb on behalf of federal investigators.
Johnson was also a minor when she was married to Bateman and likely only 17 when she conceived their child. Johnson is also facing charges, though she remains in Washington awaiting extradition and has not yet appeared in court.
Content retrieved from: https://www.khq.com/news/2-adult-wives-of-polygamist-group-leader-samuel-bateman-make-appearances-in-court/article_c89716f0-7a93-11ed-a250-3b112503725d.html.