Trump, Pompeo celebrate group with Unification Church ties
Published By admin with Comments 0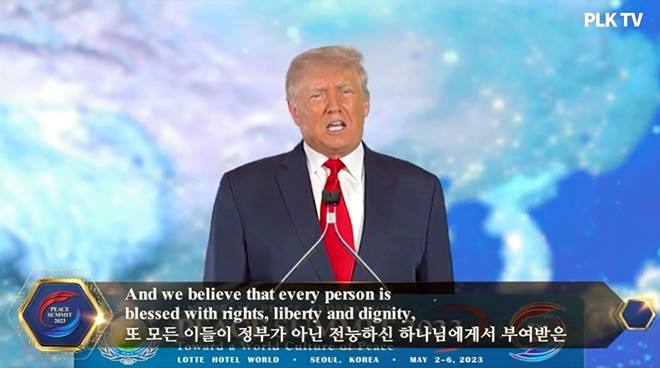 Former U.S. President Donald Trump sent a one-minute video message to an event in Seoul organized by a group related to the Unification Church.
The Universal Peace Federation opened its "Peace Summit 2023" in the South Korean capital on May 2. The event will run until May 6.
In the message live-streamed on May 3, Trump said, "It is my tremendous honor to address this Peace Summit and to speak to each of you as we continue our shared pursuit of a beautiful goal, a very, very beautiful goal, bringing peace, unity and harmony."
He continued: "I ask every person who shares our hope of a higher tomorrow to be united in our mission, faithful in our vision, and above all, to be confident in our values. We believe that every life is sacred. And we believe that every person is blessed with rights, liberty and dignity to give them, not by government, but by the hand of Almighty God. Thank you. And God bless you all."
Mike Pompeo, who was secretary of state in the Trump administration, attended the event in person and gave a speech at the podium.
It was not the first time for Trump to provide a video message for a Universal Peace Federation event.
During an event held by the group in September 2021, former Japanese Prime Minister Shinzo Abe also sent a video message.
Content retrieved from: https://www.asahi.com/ajw/articles/14900434.