The fringe ideology of 'constitutional sheriffs' is attracting believers within Texas law enforcement
Published By admin with Comments 1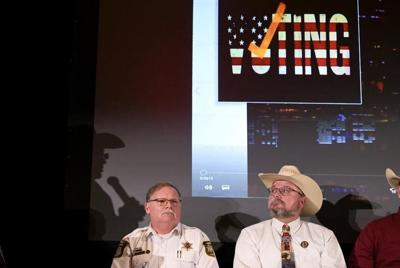 Last summer, the sheriff of Coryell County in Central Texas took to an elevated platform in a small Las Vegas ballroom and made an unusual announcement: He was a "born-again sheriff," he said, having "realized that I wasn't doing my job 100%."
Sheriff Scott Williams runs a 92-bed jail and provides security for the courthouse in Gatesville. He oversees around two dozen employees. The county is known for its six state prison facilities, and Williams has struggled to keep his overcrowded jail in compliance with state standards. He cannot keep his department adequately staffed because his deputies are "tired of working like Hebrew slaves for very little money," Williams told a local news source.
In Vegas, he told the audience that he wanted to protect America from "globalists that are coming to destroy our nation," saying "the moment we start acting like we are Americans, we are going to take our country back."
First elected in 2016, Williams is part of the growing "constitutional sheriff" movement, which claims that sheriffs have the power to override federal and state authority on matters from border enforcement to gun control to election security.
Legal scholars say the movement has no grounding in law, yet it is gaining steam: A study last year by scholars at Texas Christian University and Tulane University on behalf of The Marshall Project found that as many as 1 in 10 of America's 3,000-plus sheriffs believe they have the authority to stand between their constituents and higher government entities, a tactic they call "interposition."
Content retrieved from: https://www.tdtnews.com/news/central_texas_news/article_b44fef92-9388-11ed-81d8-c75929ff308e.html.