REVEALED: The key players in doomsday mom Lori Vallow's grisly homicide trial – five husbands, two murdered children and a killer brother
Published By admin with Comments 0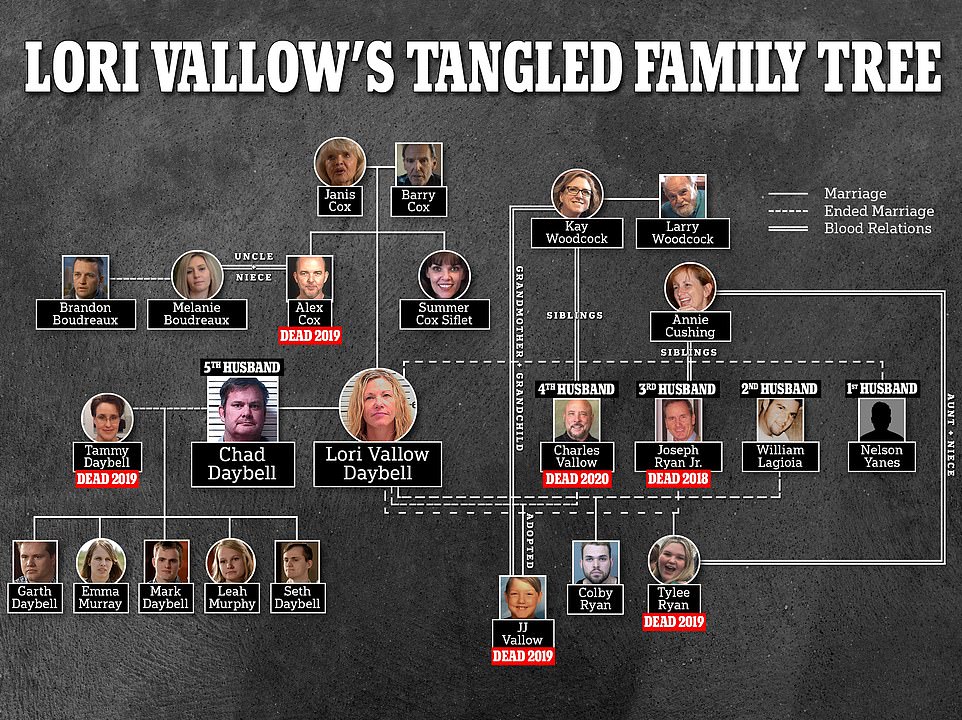 The grisly saga of 'doomsday cult mom' Lori Vallow has captured the nation's attention – but her convoluted family tree and a string of mysterious deaths has left many scratching their heads.
Vallow, 49, is currently on trial for murder in Boise, Idaho, after being accused of killing her two children, 16-year-old Tylee and seven-year-old adopted son JJ.
Prosecutors say Vallow killed her children as she hunted 'money, power and sex' with her husband Chad Daybell, 54 – who is also set to face trial after their bodies were discovered in his backyard.
The pair, who allegedly believed the second coming of Christ was imminent and that her children were 'zombies', are further accused of conspiring to murder Daybell's wife Tammy. Both deny the charges.
Lori Vallow
Before her alleged crimes, Vallow was described by friends and family members as a doting mother.
She was a former contestant on Wheel of Fortune, where she won an impressive $17,500 in 2004. That same year, she competed in the Mrs Texas beauty pageant where she talked about being a good wife and mother – though ominously described herself as a 'ticking timebomb'. 
She has been married five times, and has two biological children, Colby and Tylee Ryan, and an adopted son, JJ Vallow, all of whom she raised within the LDS Church – also known as Mormonism.
Vallow's descent into religious zealotry was fueled by her third marriage to Tylee's father Joseph Ryan. She claims that after discovering he had been sexually abusing her children, she told a bishop she was either going to 'murder' her husband, or devote herself to 'the temple'.
In 2017, she reportedly began reading a series of books by doomsday author Chad Daybell, leading her to seek out the father-of-five at a religious conference in 2018.
Her harrowing decline was detailed in the Netflix docuseries 'Sins of our Mother', which included audio snippets from her bizarre podcast 'Feel the Fire'.
She became obsessed with theories about the impending apocalypse and the second coming of Christ, and a friend told the docuseries she even threatened to drive her family off a cliff to spare them from the looming disaster.
Soon after meeting Daybell, he joined an episode of her Mormon-based podcast, which would routinely espouse beliefs about the impending apocalypse.
Both Vallow and Daybell were convinced the second coming of Christ was imminent and only 144,000 people could be saved.
They also believed that people could be rated based on their 'light or dark' energy, leading them to vow to 'rid' evil spirits from these 'zombies'.
Vallow allegedly saw her own children as 'dark', and those who knew her reportedly saw her reference the youngsters as 'zombies'.
Content retrieved from: https://www.dailymail.co.uk/news/article-11965061/Lori-Vallow-murder-trial-Key-players-family-tree-revealed.html.