'QAnon Shaman' looks to overturn sentence, says he never renounced QAnon 
Published By admin with Comments 0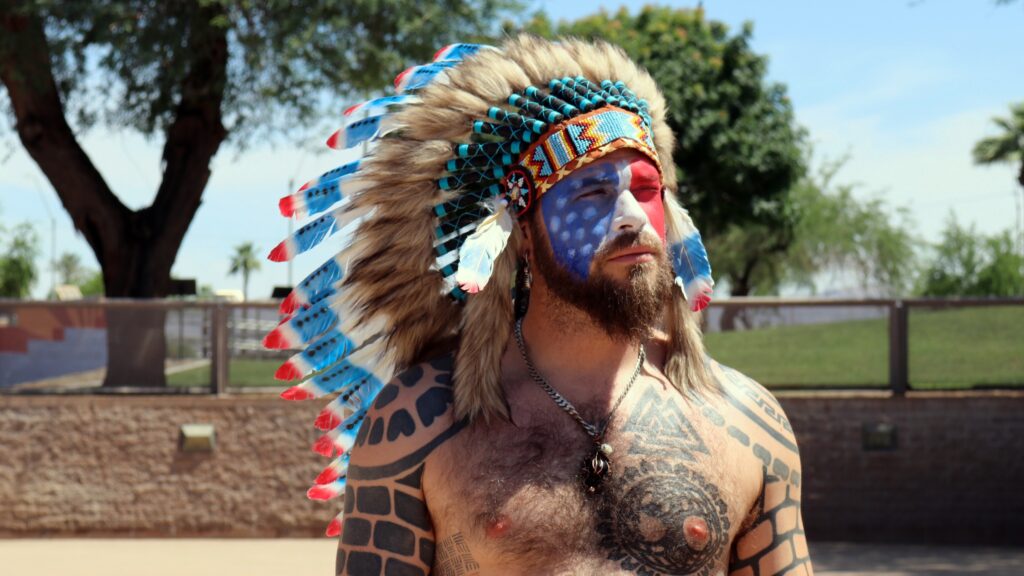 Jacob Angeli Chansley, who rose to prominence as the self-described "QAnon Shaman" and became, for many, the face of the Jan. 6 insurrection, is trying to get his sentence overturned and says he never renounced QAnon or felt duped by Donald Trump. 
At the same time, he's trying to make money on his newfound fame. 
Chansley, 35, is out of prison and back in his home state of Arizona. He's living in north Phoenix, and is attempting to rebrand himself as "America's Shaman." He's making podcasts rife with conspiracy theories, selling shaman-branded merchandise and is pitching hour-long coaching sessions for $500 a pop in the wide ranging subjects of spirituality, politics, the environment, astrology, history, philosophy and sociology. As of June 19, Chansley told the Mirror he had booked several sessions.  
Chansley in September 2021 pleaded guilty to a felony charge of obstructing an official proceeding after he entered the U.S. Capitol on Jan. 6. He entered so bare-chested, with his face painted and wearing his signature furry horn hat, wielding a pole tipped with a spear and leaving a message on Vice President Mike Pence's desk that read "It's only a matter of time, justice is coming." Chansley was sentenced to 41 months in prison. He was to a halfway house March 29, then put on house arrest around a week later, he told the Arizona Mirror during a June 1 interview, until being released on three years' probationLeading up to Chansley's plea and sentencing, his lawyer at the time, Al Watkins, said publicly that Chansley felt duped by former President Donald Trump and that he renounced QAnon. But Chansley told the Mirror that neither of those things were true. Watkins did not respond to multiple requests for comment."I'm not a big fan of (Watkins), my previous lawyer, after I found out all the things he was saying in the media without my consent," Chansley said. "He said that I felt duped by Trump. I never said that. I never asked him to say that. He said that I denounced Q and the QAnon community. I never said that. I never asked him to say that."Chansley said that his current lawyer has also advised him not to speak too much about Watkins, but he told the Mirror he has some suspicions — which he wouldn't share — about why Watkins said those things on his behalf. 
Chansley's friend and podcast co-host, who would only identify himself as "Chadwick," said he believes Watkins was trying to get on the good side of "the left" and to be invited on CNN as a guest to talk about Chansley's case. 
Chansley and his current lawyer, William Shipley, are asking that his sentence for his part in the Jan. 6 insurrection be set aside after new U.S. Capitol security video footage was released to then-Fox News host Tucker Carlson. They claim the footage, which federal prosecutors say was cherry-picked and omits key portions, proves Capitol Police did not block Chansley's path or attempt to take him into custody for 38 minutes before he entered the U.S. Senate chamber. Shipley, a Hawaii criminal defense attorney who has represented other Jan. 6 defendants, argued in court filings that the government should have provided the video to Chansley and his lawyer prior to his guilty plea and sentencing. Shipley also argued that Watkins was ineffective in doing his job, alleging that he knew the government hadn't provided all the video evidence available when Chansley signed his plea agreement. 
At the time of his sentencing, Chansley told the court he was truly repentant and accepted responsibility for his actions. But now, Chansley won't talk about whether he believes his sentence was justified, citing advice from Shipley not to. 
Mike Rothschild, an author, journalist and conspiracy theory expert, told the Mirror that he believes Chansley's backing away from taking responsibility for his actions on Jan. 6 sends a message to his fans and followers. 
"I think it shows to this community that, if you say the right things, you can get away with stuff," Rothschild said. "If you act contrite in the moment, you'll get a lesser sentence and the media will do a lot of profiles on you, and then you come out and go immediately right back to hawking t-shirts and talking about the Great Awakening."
According to the Capitol Police and the plea agreement that Chansley signed, he ignored multiple requests from officers to leave the building on Jan. 6 and shouted obscenities in the Senate gallery. Capitol Police Chief Tom Manger pointed out in a previous statement that his force was vastly outnumbered by protestors that day — some of whom were violent — and was initially focused on de-escalating the situation. 
And prosecutors countered Chansley's claims in a June 6 filing, saying he waived his right to challenge his conviction when he signed a plea deal. They also noted that Carlson only showed about four minutes of Chansley's approximately one hour inside the U.S. Capitol. Among the things the right-wing television host didn't show his audience were Chansley breaching a police line outside the building as part of the crowd, or facing off with members of the Capitol Police for more than 30 minutes outside the Senate chamber. 
"Chansley's claims are not just belied by the record — they are completely at odds with the remorse he professed at the time of his sentencing: supposed remorse that he and his then- counsel used to great success in seeking a lower sentence," U.S. Attorney Matthew Graves wrote in the filing. 
Content retrieved from: https://www.azmirror.com/2023/06/22/qanon-shaman-looks-to-overturn-sentence-says-he-never-renounced-qanon/.