Pat Robertson, conservative evangelist and Christian Coalition founder, dies at 93
Published By admin with Comments 0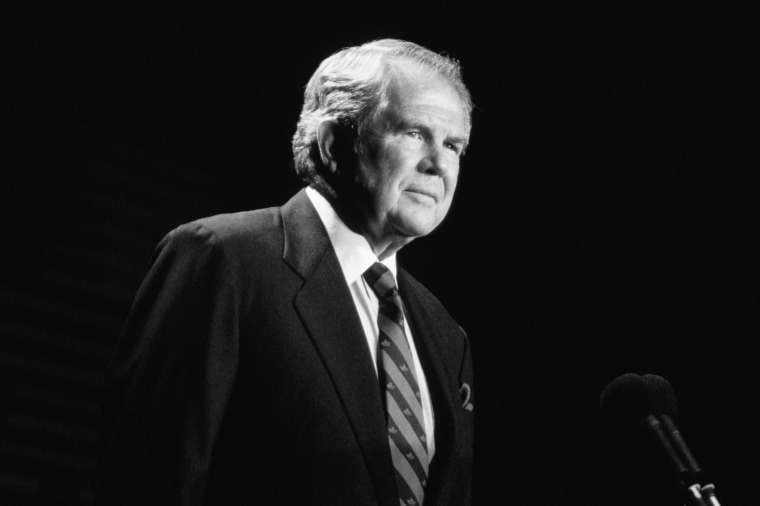 Pat Robertson, the conservative evangelist and media mogul who galvanized the modern Christian right, cultivated a massive national following and regularly drew criticism for his incendiary political statements, died Thursday, according to his official broadcasting network.
He was 93.
The Christian Broadcasting Network, the organization he founded, did not immediately announce Robertson's cause of death. "Pat Robertson dedicated his life to preaching the Gospel, helping those in need, and educating the next generation," the company said.
He was one of the most prominent and influential Christian broadcasters and entrepreneurs in the United States — equal parts religious leader and culture warrior.
In a way, Robertson was also a business visionary. He converted a small Virginia television station into a religious broadcasting powerhouse, marrying fiery ideology with 20th-century entertainment technology. He inspired other conservative Christians to take to the airwaves, too.
He created the Christian Broadcasting Network (CBN), home to the talk show "The 700 Club," and founded the Christian Coalition, a group that helped mobilize American evangelicals into a conservative political bloc and one of the cornerstones of the modern Republican Party.
Robertson reached the pinnacle of his national celebrity in the 1980s, when social conservatism was ascendant. He ran for the Republican presidential nomination in 1988, a contest ultimately won by George H.W. Bush. But he would remain a kingmaker in the GOP for decades to come, marshaling conservative Christians behind George W. Bush and Donald Trump.
Content retrieved from: https://www.nbcnews.com/news/us-news/pat-robertson-conservative-evangelist-christian-coalition-founder-dies-rcna61662.