Missouri congresswoman's gay nephew reveals his parents hired an 'EXORCIST to get all the demons out of his bedroom' – because they thought evil spirits were 'making him gay'
Published By admin with Comments 0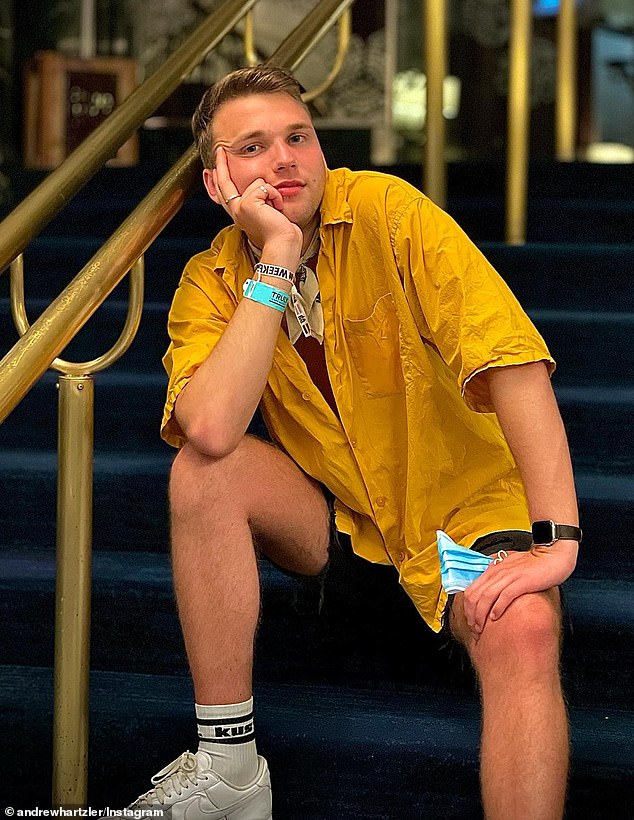 The nephew of a Missouri congresswoman has claimed his parents hired an 'exorcist' to expel 'all the demons' from his room that they thought 'were making him gay.'
Andrew Hartzler, who grew up in Kansas City, came out to his family – who were members of the conservative evangelical sect called the International House of Prayer – at age 14.
The now 25-year-old, who was also sent to a conversion camp, recently took to TikTok to share a clip of the 'exorcism' that his parents ordered to rid his room of the devil as a result.
Other social media users were left stunned and quickly flooded the comments with supportive words for Andrew.
In the clip, which has so far been viewed more than 853,000 times, Andrew talks directly to camera as he reveals: 'Here is when my parents hired an exorcist to get all the demons out of my room that they thought were making me gay.'
Andrew then lets the video of the encounter play out as the exorcist wanders around the bedroom and closets with a Bible in hand.
He says: 'Devil go in Jesus' name. You foul spirit, you leave in Jesus' name. Every evil spirit go now in Jesus' name. And I pray the conviction of the Lord upon this room…
'Devil you have no more place, you can never enter this room again. I plead the blood of Christ over this closet, over every piece of clothing in here.'
The exorcist, who is joined by two other adults, then anoints various items in the room with Holy Water as he proclaims: 'We anoint this bed in the name of Jesus that every person that touches this bed shall be saved.'
And the video left other social media users stunned and rushing to Andrew's side, as one wrote: 'It is so painful and at the same time comical in a sad way. OMG honey, I am so sorry.'
Another added: 'Good lord, I can't believe this is real life! I am so sorry.'
And a third simply said: 'I have no words.'
Content retrieved from: https://www.dailymail.co.uk/femail/article-12161425/Missouri-congresswomans-gay-nephew-says-parents-hired-exorcist.html.