'Messianic' San Francisco guru who founded 'orgasmic meditation cult' OneTaste heads to court with ENTOURAGE after being charged with keeping women in 'residential warehouses where they were forced into sex acts'
Published By admin with Comments 0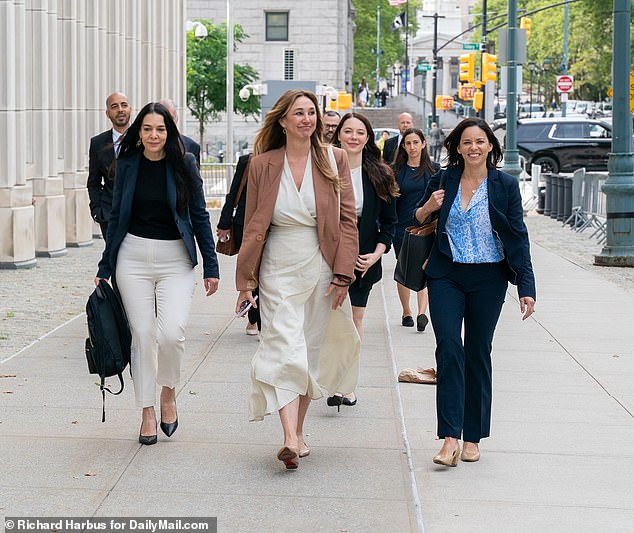 An 'orgasmic meditation' sex guru accused of keeping women in residential warehouses and forcing them into sex acts was surrounded by an entourage as she headed to court on Wednesday.
Nicole Daedone, former CEO of 'sexual wellness' company OneTaste, smiled for the cameras as she was flanked by 13 people on her way to the hearing at the Brooklyn Federal Court.
She founded the San Francisco-based firm in 2004 and it soon became renowned for orgasmic meditation (OM) which promised to help clients 'reclaim their sexuality.'
Her top lieutenant Rachel Cherwitz, 43, who was former head of sales, was alongside her. The pair were hit with a federal indictment on June 6 accusing them of a forced labor conspiracy to which they have pleaded not guilty.
Prosecutors say the alleged victims were kept under surveillance and were made dependent on Daedone and Cherwitz for shelter and basic necessities. 
Daedone and Cherwitz have been accused of forcing volunteers, contractors, and employees into sex acts using cult-like tactics. 
The former chief executive's lawyer Reid Weingarten plans to challenge the indictment and told US District Judge Diane Gujarati that the criminal charge lacks details.
'Who are they saying were the victims?' he asked in the hearing. 'Who are the slaves that we enslaved?'
Both Daedone and Cherwitz pleaded not guilty to one count of forced labor conspiracy.
Jenny Kramer, an attorney representing Cherwitz, told Judge Gujarati her client denied the charges.
Cherwitz was arrested on June 6 in California, while Daedone remained at large and was believed to be overseas prior to turning herself in.
Daedone was flanked by a team of five women as she surrendered herself to the police on June 13. She was arraigned that same day.
Content retrieved from: https://www.dailymail.co.uk/news/article-12220353/Messianic-San-Francisco-guru-founded-orgasmic-meditation-cult-heads-court-ENTOURAGE.html.