Leader of $1 Billion Polygamist Fraud Gets 40 Years in Prison
Published By admin with Comments 0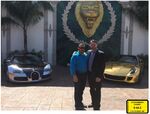 A Los Angeles businessman was sentenced Friday to 40 years in prison for leading a conspiracy with a Utah polygamist family to defraud a US clean-fuels program of more than $1 billion.
US District Judge Jill Parrish in Salt Lake City imposed one of the longest US fraud terms in the past decade on Lev Dermen, 56, for escalating a plan run by the Kingston family. Dermen, who maintains his innocence, sought a sentence of time served.
This week Parrish also sentenced four members of the Kingston family, who prosecutors had called a "close-knit, insular community, practicing polygamy."
The case was "one of the most egregious examples of tax fraud in US history," Albert Childress, who runs the Internal Revenue Service office in Phoenix, said in a statement.
The Kingstons are members of the Order, the largest Mormon polygamist clan in the US. Authorities say it's an organized crime group with 10,000 members that controls more than 100 businesses in the West.
Read More: The Polygamist Accused of Scamming the U.S. Out of $500 Million
Dermen, also known as Lev Termendzhyan, was an Armenian immigrant who built a string of fuel-oil businesses before joining forces with Jacob Kingston, the chief executive officer of Washakie Renewable Energy. The company had already submitted false claims to the IRS and Environmental Protection Agency for renewable fuel tax credits, the US said.
The plan mushroomed under Dermen, who saw Jacob Kingston and his family as "the perfect marks," prosecutors said in court papers. Kingston idolized Dermen, who traveled in armored vehicles, drove fast cars and surrounded himself with corrupt law enforcement officers, the US said.
Prosecutors said the Kingstons stole $511 million and tried to steal another $600 million or so.
Jacob pleaded guilty in 2019, as did his brother, Isaiah; his mother, Rachel; and his wife, Sally. Jacob was sentenced this week to 18 years in prison. Isaiah got 12 years, Rachel was sentenced to seven years, and Sally got six years.
Dermen was convicted in March 2020 after a seven-week trial, where Jacob and Isaiah Kingston testified against him.
The brothers laundered $134 million in fraud proceeds, which they used to make lavish purchases, the US said. Dermen's associates in Turkey used the funds to buy a 150-foot yacht that the US seized in Beirut in 2021 and sold in Cyprus for $10 million. Jacob Kingston also bought Dermen a 2010 Bugatti Veyron for $1.8 million, the US said.
A Turkish businessman, Sezgin Baran Korkmaz, was arrested in Austria in 2021 and faces a trial in Salt Lake City on charges of helping Dermen and the Kingstons launder $133 million.
Content retrieved from: https://www.bloomberg.com/news/articles/2023-04-08/leader-of-1-billion-polygamist-fraud-gets-40-years-in-prison?srnd=premium-europe&leadSource=uverify%20wall.