Frankie Lee Talks Coming Out and Leaving the Mormon Church in Award-Winning One-Man Show
Published By admin with Comments 0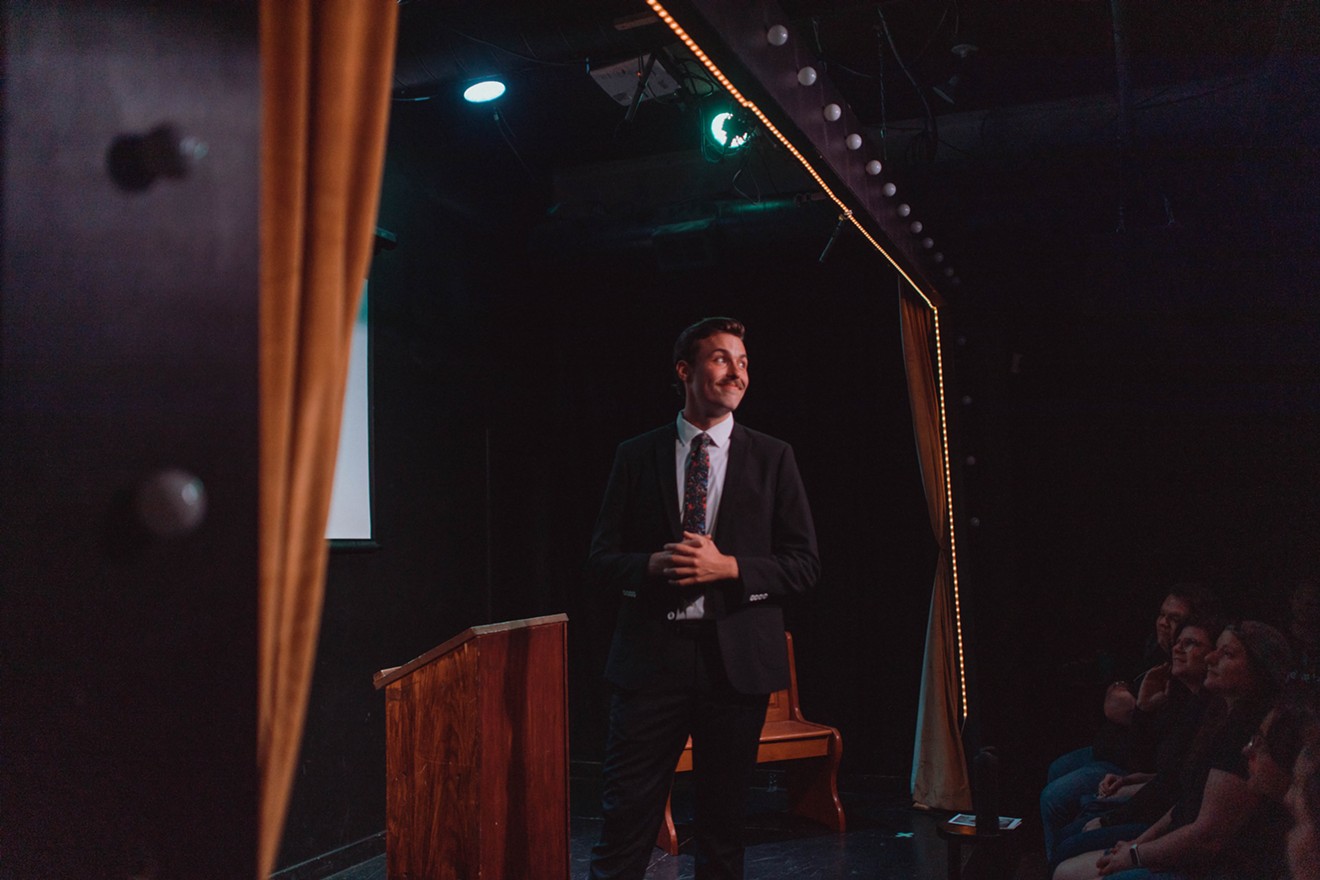 "As of this year, I've been out of the Mormon Church and out of the closet for seven years," says Frankie Lee, creator and star of the one-man show
FoMo: Formerly Mormon
.
"It took me a long time to get to a place where I could reconcile those emotions. I love standup and sketch comedy — those mediums have been my home for years — but I've been itching to tell an impactful story like this," he continues. "It has been fun to not only share my story, which a surprising number of people have found relatable, but also to be able to laugh at the religious trauma that has been weighing me down for years."
On Saturday, August 12, at Rise Comedy, Lee will perform an encore of his Best Solo Performance in Comedy-winning act from the 2023 Denver Fringe Festival. FoMo: Former Mormon is a one-man show written, performed and produced by Lee, along with director Rebecca Gholson and assistant director/script supervisor Val Vasilas. It shares the story of a young man discovering his queer identity while signing his life away to the Mormon Church. Despite the suffering and opposition he encountered, Lee candidly and amusingly reflects on the chance he took to leave Mormonism and live as a gay man.
"The play began to come together in 2019, when I was in a playwriting class at DCPA right after starting therapy," Lee recalls. "I was there because my therapist said, 'I want you to go take a playwriting class because you need to do something for yourself.' So I did. And it was in that class that I started writing the early pages of FoMo. It was originally a two-act play, and I spent two to three years working on it and trying to figure out what made sense and what worked well, but nothing really clicked."
That was until about a year ago, when Lee found himself in a conversation with Gholson about performances that inspired them. "I mentioned that Phoebe Waller-Bridge is a huge inspiration of mine, and it hit me: FoMo was a solo show," Lee says. "Before I could tell the stories of other people that had impacted me, I had to tell my own story. And so I started writing FoMo, the one-person show, in the fall of last year. It kind of just sat on my laptop and stared at me for months until Christie Buchele and I were talking in February about solo shows. She encouraged me to submit to the Denver Fringe. And I was like, 'That's terrifying. It's not even done.' She's like, 'Well, if you get in, there's your deadline.' And I'm like, 'Okay, challenge accepted.' After that, I ended up finishing the first full draft of FoMo at the end of February."
The play was accepted into the 2023 Denver Fringe Festival, which meant that Lee had to get it up and running by June. Even though he was initially a little nervous about being so vulnerable on stage, he found the show's production process to be a remarkably liberating experience.
"I could finally laugh at all these things that I was certainly not laughing about back then," Lee says. "I make a joke in the show about having an affair with a guy in the Mormon Church who I found on Grindr. It was high-stakes and serious back then, but even as I say it aloud now, I have to admit the premise is hilarious. It's hard, because at that time, I was eighteen years old and didn't know any better — I was trying to survive. Now that I've healed from that experience, I'm thriving and love sharing my experience in FoMo.
"However, that week leading up to the Denver Fringe Festival was terrifying," he continues. "I had several moments where I was like, 'Oh, no! What am I doing? I'm telling one of the most fundamental stories of who Frankie is as a person.' I was less concerned with how people were going to respond — having done comedy for nine years now, I'm used to various audience responses — but when it came to FoMo, I had to open up about everything in my personal life. I had to come to terms with the fact that, as someone who has endured and survived religious trauma, there were times along the way when I was the bad guy. … I think what scared me was not knowing how my friends and family were going to respond."
Following his first performance, he felt an enormous weight leave his shoulders. "Not even just from a production standpoint, but from a human standpoint," Lee says. "I finally get to tell the world about this experience that shaped me. The audience response was incredible. I had several sold-out shows, and I remember going back to the green room with tears of joy after the first performance because I had finally gotten to do it. I'm still blown away that we won the award for Best Solo Performance in Comedy, and I definitely plan to apply to the Denver Fringe Festival again. I have been putting the word out to people in the comedy community to submit new projects to Fringe, because people are craving new content."
Lee says that the show he will be performing at Rise Comedy is essentially the same one that made its debut at the Denver Fringe Festival back in June. He hopes to take it to the Edinburgh Festival Fringe and other venues around the world, but this weekend will be the last chance for local audiences to see it for a while.
"I've made some tweaks here and there, but the piece is pretty similar to our recent shows," Lee says. "We are working out more tour details, which I hope to share soon, but for now, I am just grateful to the Denver Fringe for giving me the opportunity to premiere FoMo there and to Rise Comedy for assisting me in keeping the project alive. FoMo is still fifty minutes long, with the same materials and trajectory; what I am bringing to it now is a newfound sense of confidence in the piece."
FoMo: Former Mormon, 9 p.m. Saturday, August 12, Rise Comedy, 1260 22nd Street, Denver. Tickets are $14-$17; get them at risecomedy.com.
Content retrieved from: https://www.westword.com/arts/frankie-lee-fomo-formerly-mormon-rise-comedy-17534207.