Doomsday Cult Mom Trial: Defense, prosecution rest
Published By admin with Comments 0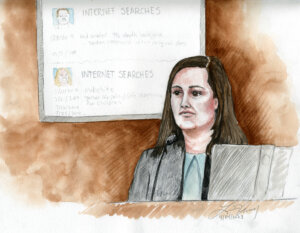 BOISE, Idaho (Court TV) – Prosecutors rested their case against Lori Vallow Daybell on Tuesday afternoon after calling 59 witnesses over five weeks. Prosecutors began the day on Tuesday by focusing on Lori Vallow Daybell's relationship with her fifth husband, Chad Daybell, and the 'James and Elena' story he wrote.
Lori is charged with murder in the deaths of her two youngest children, JJ Vallow and Tylee Ryan, and conspiracy in the death of Chad's first wife, Tammy Daybell. She has pleaded not guilty to all charges.
Prosecutors recalled FBI investigator Nicole Heideman to the stand, who testified to portions of the 'James and Elena' story written by Chad that were found while reviewing cell phone data and iCloud accounts.
Heideman testified that in the story, the characters James and Raphael represent Chad, while Elena and Lilli represent Lori. She testified that there are real-life correlations between the characters in the story and Chad and Lori, from the onset of the story which begins on October 26, 2018, with multiple mentions of a conference in St. George, Utah.
Chad was a speaker at the conference, and Heideman testified that a group photo of Lori, Chad, Melanie Gibb and Zulema Pastenes was shared in a group text.
While Chad and Lori attended a conference in Arizona November 16-17, 2018, the story reflected the characters doing the same. Heideman testified that records showed the characters preparing a conference, visiting a temple and staying at a friend's house.
In the story, Elena visits James for the first time in Idaho in April 2019. Heideman testified that flight records and bank statements indicate Lori did the same. Flight records also indicate Chad traveled to Arizona to participate in a podcast posted in January 2019, similar to a portion of the story where James travels to Arizona to participate in a podcast.
Heideman also testified to text messages between Chad and Lori.
Content retrieved from: https://www.courttv.com/news/witness-the-james-and-elena-story-mirrors-chad-and-lori-daybells/.