Convicted Sex Offender Rabbi Berland Turned Away at Ukrainian Border on Way to Uman
Published By admin with Comments 0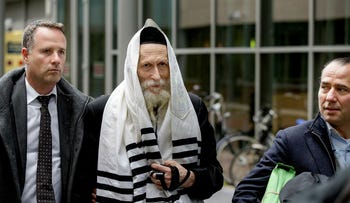 Rabbi Eliezer Berland was turned away at the Ukrainian border with Romania while attempting to journey to the pilgrimage city of Uman for the High Holidays, despite Israeli efforts to convince Kyiv to lift its travel ban on the convicted sex-offender.
The leader of the Breslov offshoot Shuvu Banim, seen by many in the ultra-Orthodox community as a cult, Berland was convicted of indecent acts, assault, money laundering and fraud. Ukraine's authorities have banned him from entering the country for three years citing concerns for public order and safety following Berland and his follower's involvement in criminal offenses. Berland had previously petitioned Ukraine to lift the ban, claiming that the decision was made without sufficient evidence.
Among offenses cited by Ukrainian police were fleeing Israel to avoid facing sex-offense charges, past convictions as well as attacks against Arab individuals and riots carried out by Berland's followers. The police also stated that Berland's presence in Uman in 2017 has led to extreme behavior among some pilgrims.
Content retrieved from: https://www.haaretz.com/israel-news/2023-09-14/ty-article/convicted-sex-offender-rabbi-berland-turned-away-at-ukrainian-border-on-way-to-uman/0000018a-93ea-d077-a7da-f3ebea800000.