Anti-Zionist Haredi sect members visit Jenin, meet terror-linked Palestinians
Published By admin with Comments 1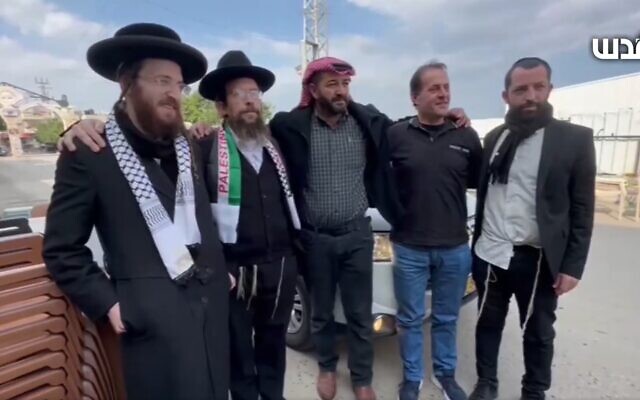 Several members of the fringe anti-Zionist ultra-Orthodox sect Neturei Karta entered Jenin refugee camp in the West Bank on Monday and met with Palestinians from local terror groups
According to Hebrew and Arabic-language reports, the Neturei Karta members met with prominent Palestinian Islamic Jihad terror group officials as well as families of terrorist attackers. The Jenin camp is seen as a hotbed of Palestinian terrorism.
Neturei Karta opposes the modern State of Israel on religious grounds, regularly protesting against the Jewish state, and has met with Holocaust deniers and leaders of the Iranian government in the past.
Two of the Neturei Karta members were photographed wearing scarves with Palestinian national colors and carrying Palestinian flags.
Video shared on social media showed them visiting the home of senior PIJ official senior official Bassam al-Saadi, who is in jail in Israel. Saadi's detention last year sparked a round of fighting between Israel and the Gaza Strip.
Content retrieved from: https://www.timesofisrael.com/anti-zionist-haredi-sect-members-visit-jenin-meet-terror-linked-palestinians/.